TaxBandits is the Solution for Issuing Forms W-2 and 1099-NEC to Your Drivers
Need to file Form 1099 or W-2 for your drivers? Look no further than our sister company TaxBandits.

|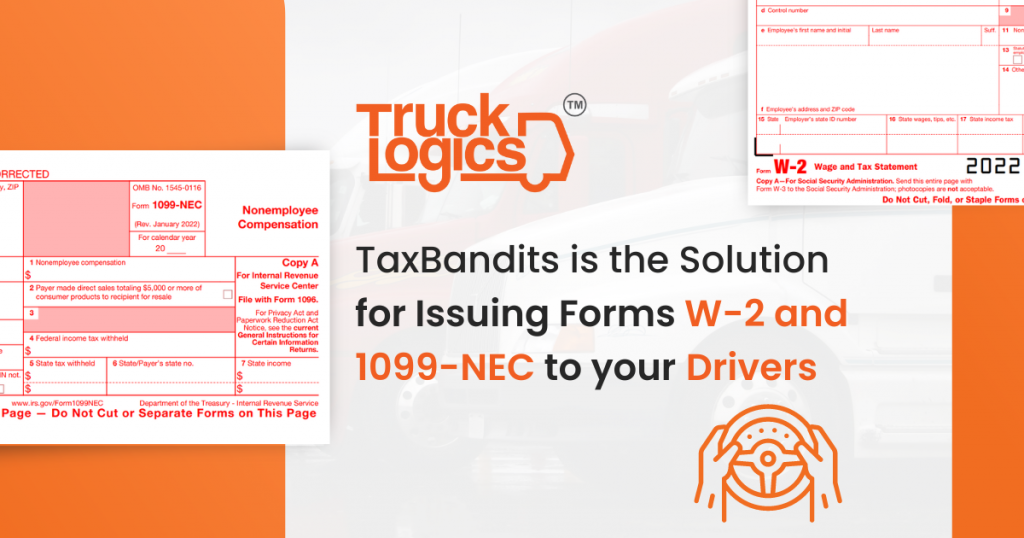 TruckLogics is a full trucking management system dedicated to helping your business operate as efficiently as possible. When it comes to issuing W-2s and 1099s, our sister company TaxBandits has you covered. If completing your year-end filing slipped your mind, there is less than a week left to complete this. Below you will find more information about the forms, deadlines, and how TaxBandits can help you meet these deadlines and distribute the forms to your drivers.
What is Form W-2?
Drivers and other employees on your payroll should receive a Form W-2. In order to ensure your drivers and employees receive this form, you will first need to file it with the Social Security Administration (SSA) and potentially your state agency. Form W-2 is used to report the wages that your employees earn and the taxes that the employer withholds from them. This information is important for your drivers when it comes time for them to report their own earnings for their personal income tax returns. 
When is the Form W-2 deadline?
The official deadline for companies to file and distribute Form W-2 to their employees is January 31, 2023.
What is Form 1099-NEC?
Many drivers in the trucking industry work as independent contractors as opposed to company drivers. If this applies to the drivers in your trucking business and you have made payments to them of $600 or greater during the tax year, you will need to issue them a Form 1099-NEC. Independent contractors need a copy of this form so that they can report their earnings on their personal income tax returns.
When is the 1099-NEC deadline?
The official deadline to report all non-employee compensation using Form 109-NEC for the 2022 tax year by filing and distributing Form 1099-NEC is January 31, 2023. 
Why use TaxBandits to E-file and Distribute Forms 1099s and W-2s?
To ensure e-filing and distributing your Forms 1099 and W-2 is fast and easy, our sister product TaxBandits offers a number of amazing features to help you do just that. TaxBandits has built-in error checks using the IRS Business Rules and offers real-time updates on the status of forms while filed with the IRS, SSA, and at the state level. Taxbandits flawlessly integrates with QuickBooks, Xero, and Sage Intacct accounts. You also have the option to file other forms in the 1099 series, forms in the 94x series, and ACA forms. After transmitting the forms, you can grant your employees or recipients access to view and download their forms securely. 
TaxBandits also provides postal mailing services that make sure all of your forms are printed and mailed to your drivers. They also offer excellent live support available at extended hours leading up to the January 31st deadline. What are you waiting for? File your Form 1099 or W-2 for your drivers with TaxBandits today for a quick and stress-free filing experience today!