7 Great New TruckLogics Features in May 2020
Check out the latest TruckLogics updates from May 2020 and how to use them

|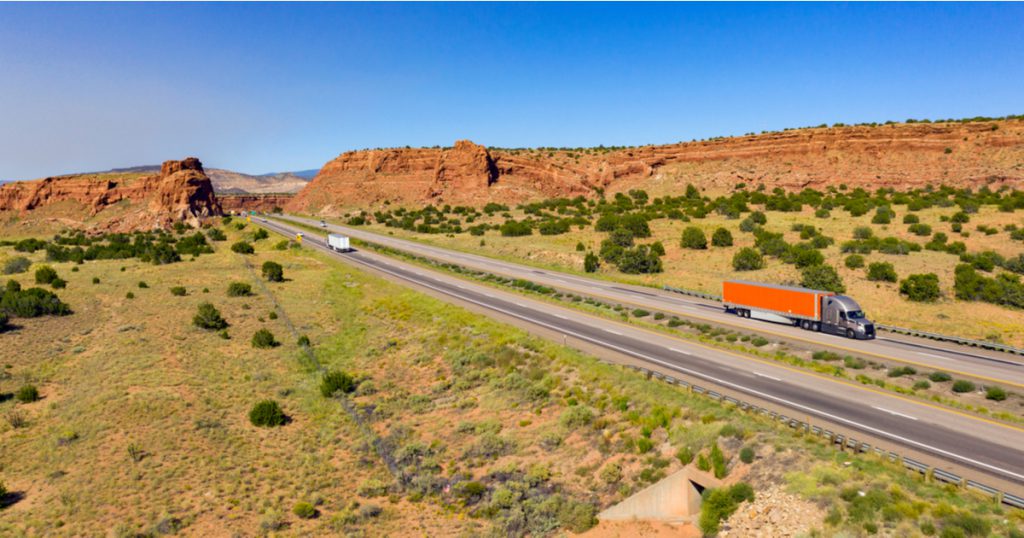 Here at TruckLogics, we're always looking for ways to improve your Trucking Management Software experience.
That's why we're constantly updating, fine-tuning, and adding new features to help you make the most of your trucking business.
Check out the latest TruckLogics updates and how to use them below!
The newest TruckLogics updates
1. Import load information from DAT into TruckLogics
Finding and adding loads from the DAT load board just got even easier! We've reduced the workflow by allowing you to import information from DAT directly into your TruckLogics account.
Now, when you create a new load or dispatch in TruckLogics for a load you found on DAT, you don't have to manually enter all the information. TruckLogics does it for you!
To access this feature: Load Board > Select a Load > Import to TruckLogics.
Learn how to use DAT Load Board Integration with TruckLogics here.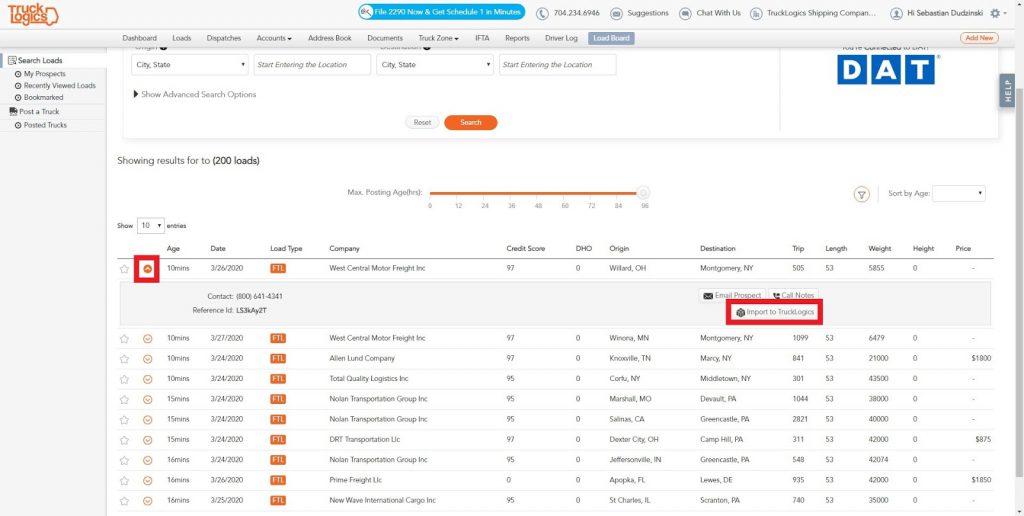 2. Leased Operators can now use Smart Upload to import fuel expenses
Keeping track of fuel expenses for Leased Operators is now as simple as importing a spreadsheet into TruckLogics!
Instead of manually entering every fuel expense, you can now add everything to one spreadsheet and bulk upload all your fuel expenses in one go.
To access this feature: Fuel Up > Fuel Up List > Upload Fuel Expense.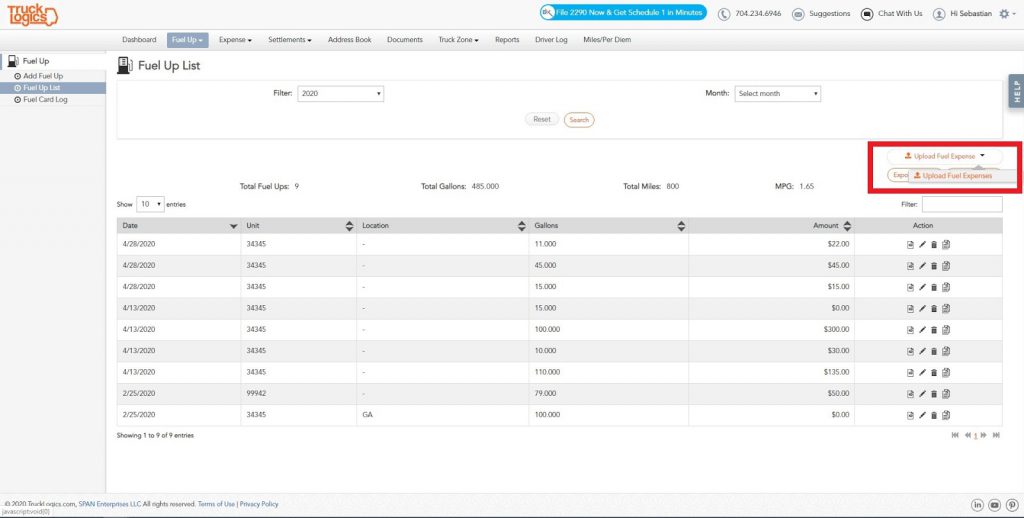 3. Disable chat between your drivers
If you have a TruckLogics Fleet subscription, you can now control all communication that happens inside the TruckLogics mobile app.
This can be especially helpful if you would like to limit the correspondence between your drivers from within the mobile app.
This feature is only available to Trucklogics users with a Fleet account. You will need to have Multi-User Access enabled and have drivers added to your account.
To access this feature: Settings > General > Chat Settings.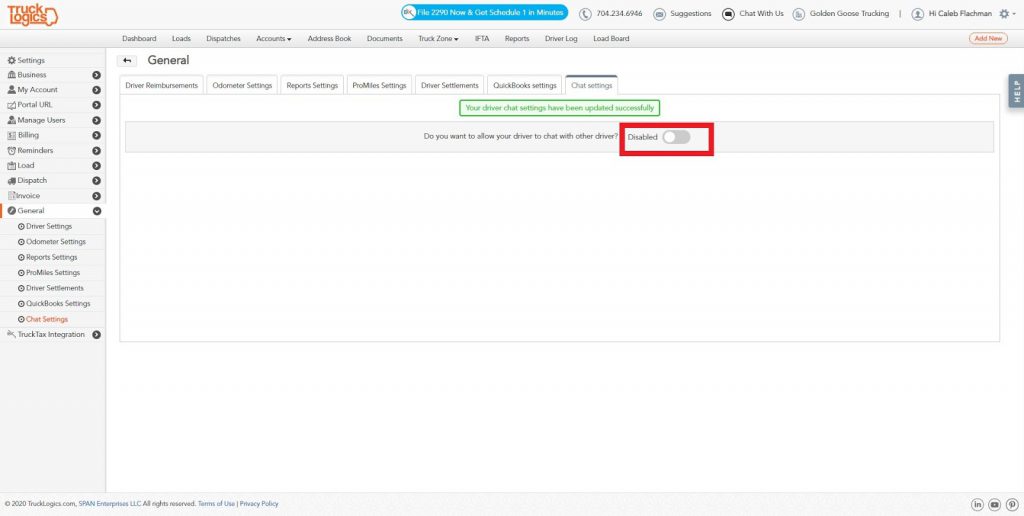 4. Email or download batches of invoices, BOLs, etc. from the Documents tab
To make record-keeping even easier for you in TruckLogics, you can now download and/or email all of your important information at the same time! That way, you can send or save everything you need in the click of a button.
Need to email a batch of invoices to your factoring company? No problem! With this functionality, you can search for all invoices within your required date range, and send them all to your factoring company with the click of a button.
To access this feature: Select Documents from your Menu Bar.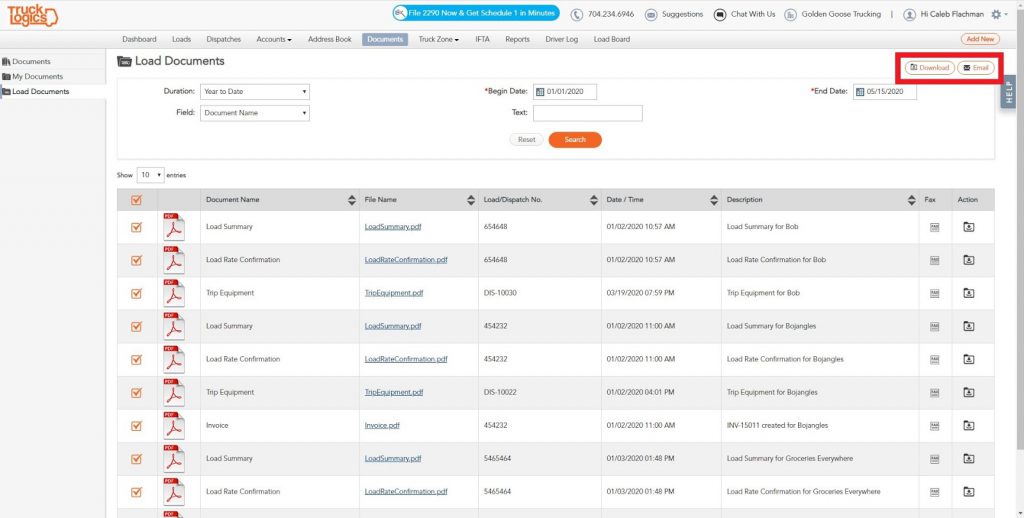 5. Add accessorial and reimbursement fees to driver settlements from the Make Payment screen
The payment options in TruckLogics just got even easier to use! Now you can add accessorial and reimbursement fees directly to your driver settlements after a load or dispatch has been created.
No need to go back and edit that load anymore when it's time to make a payment. Do you give your drivers guaranteed pay? Do you provide bonuses or other cash incentives? Adding them directly to driver payments during your payment creation is now supported by this new feature.
To access this feature: Accounts > Driver Settlements.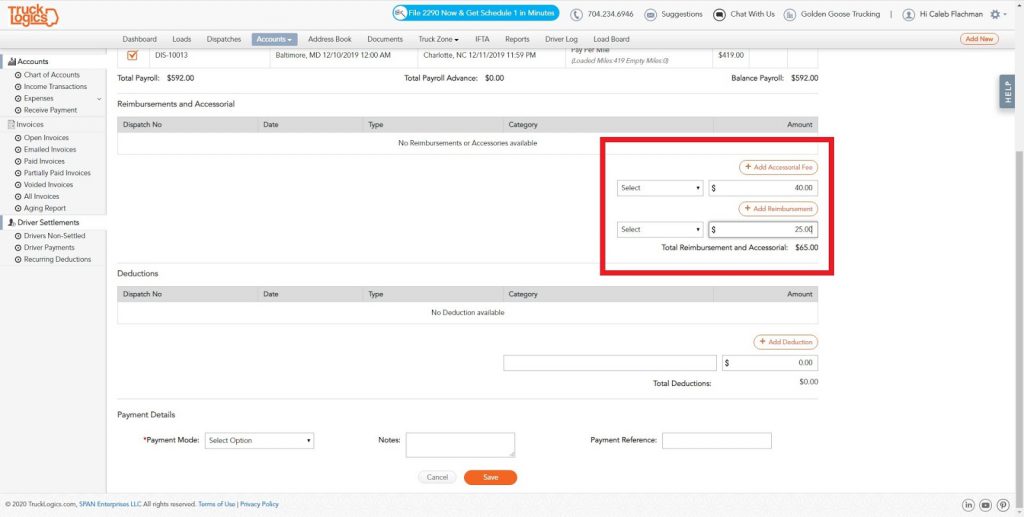 6. Include or Exclude fuel surcharges or factoring rates to Driver Settlements paid by percentage
This new feature makes driver settlements in TruckLogics more powerful! Now, if your drivers are paid by percentage, you can adjust their pay based on fuel surcharges or factoring rates, total net income, or total gross income.
To access this feature: Dispatches > Select a Dispatch > Settlements.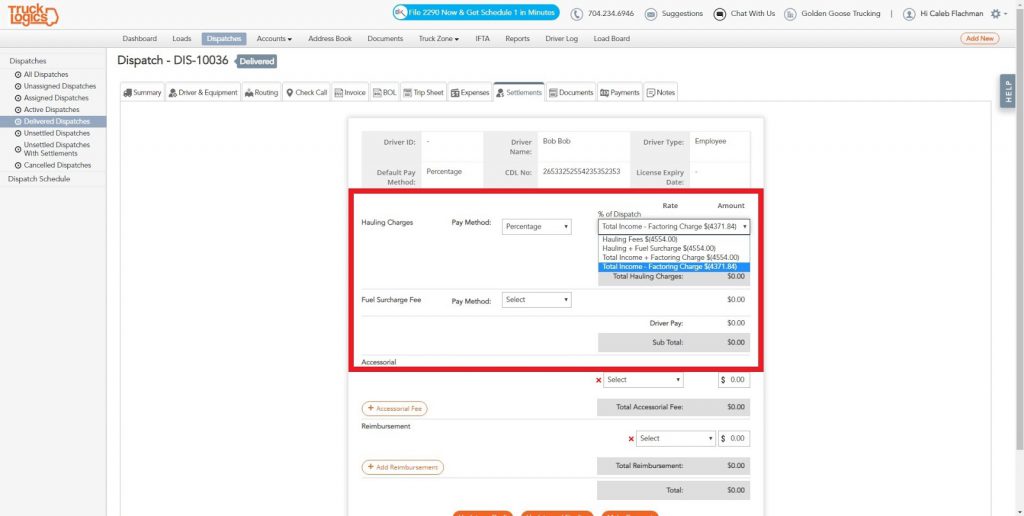 7. View, print or email the trip history for dispatches in the check call screen
This another way record-keeping keeps getting better in TruckLogics! Now you can print or email the trip history for dispatches for your own records.
This can be especially helpful if you need paper documentation for situations like IFTA Audits. This history shows all the check call information added by the driver or automated check call system. You can print or email this log which shows where the driver reported each activity, such as pickup and drop off complete check calls.
To access this feature: Dispatches > Select a Dispatch > Check Call > Trip History.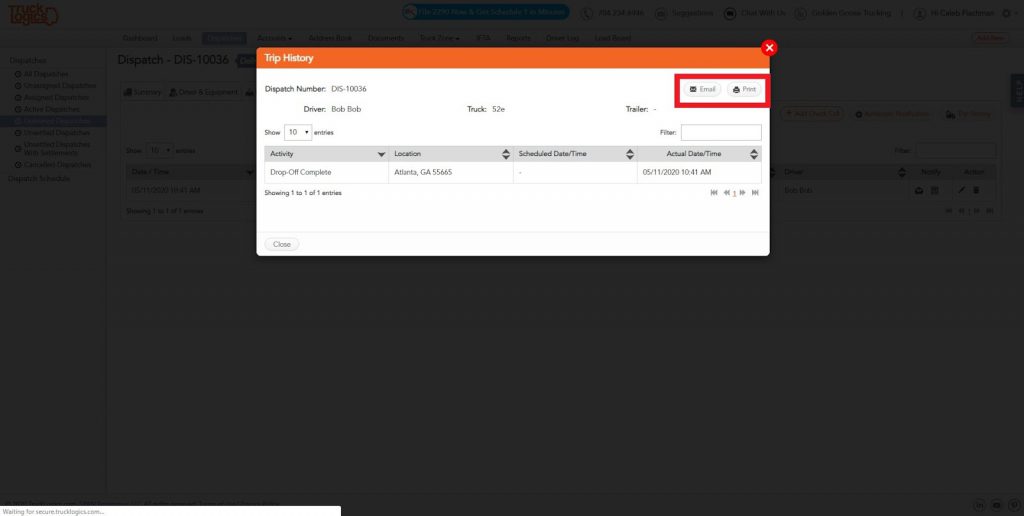 Bonus Update: Log in to TruckLogics with Google
As an added bonus, you can now use your existing Google account to sign in to TruckLogics! You only need to remember one password for all your accounts!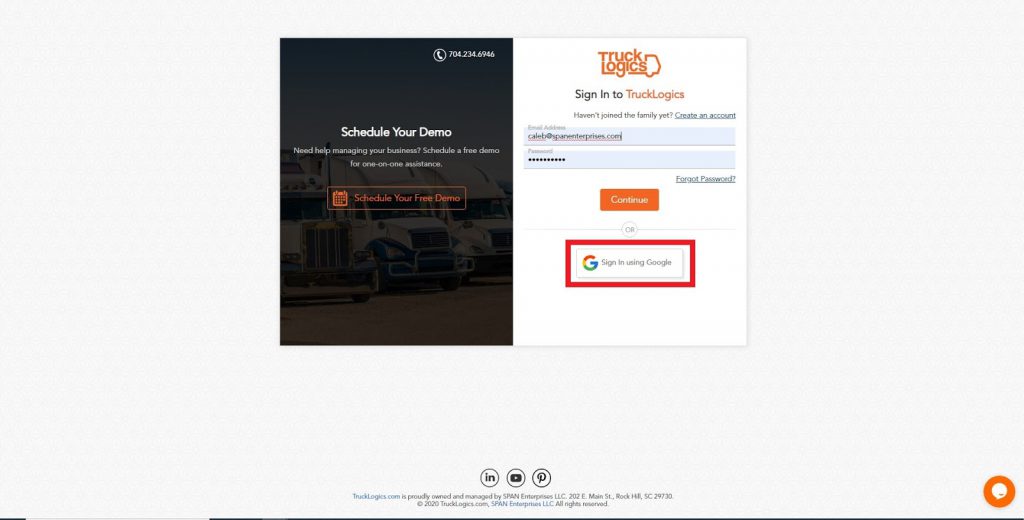 Like what you see?
Want to try TruckLogics? Get a 15-day free trial today! There's no obligation and no credit card information required.