The 4 Best New Features Added to TruckLogics in July 2020
The latest updates to TruckLogics trucking management software

|

Here at TruckLogics, we're always looking for ways to improve your Trucking Management Software experience.
That's why we're constantly updating, fine-tuning, and adding new features to help you make the most of your trucking business.
Check out the latest TruckLogics updates and how to use them below!
1. E-sign BOLs
With the TruckLogics mobile app, your drivers can now e-sign BOLs! They can even have your customers e-sign BOLs too!
To access this feature: Click on Load > BOL > E-sign BOL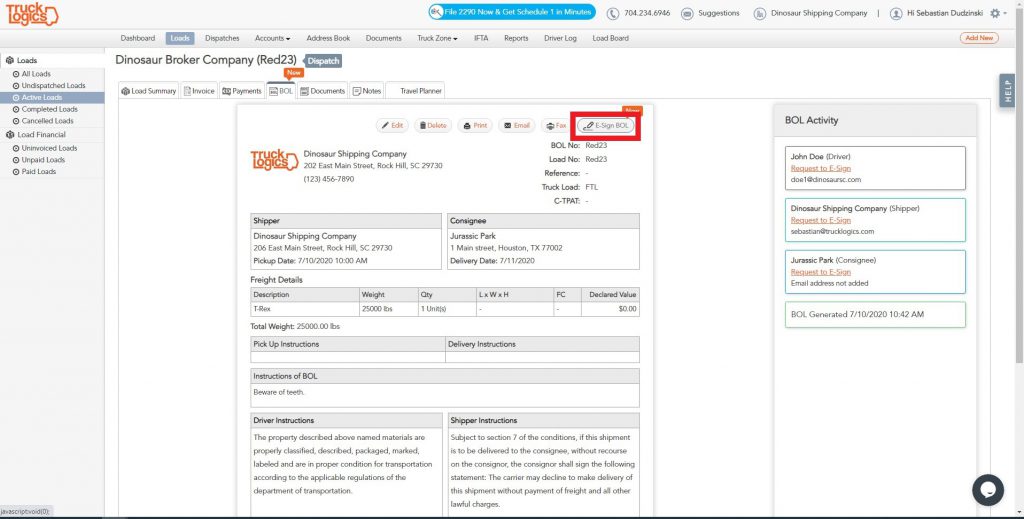 2. Rate Confirmation for Broker accounts
Brokers now have the option of utilizing rate confirmations for their records.
Brokers can now generate two separate rate confirmations for brokers/customers and for carriers. To do so, they need to set the rate for the carrier at load/dispatch creation to account for their margin. The rate confirmations then appear as two distinct rate confirmations in the documents section.
To access this feature: Dispatch > Documents > Load Rate Confirmation
3. Manual deductions for driver settlements
Manual deductions should now be saved in the liabilities expense category!
They are excluded from profit and loss calculations. This change was made to prevent manual deductions from being booked automatically as an expense.
Now all manual deductions are grouped into one entry and placed in the liabilities section each time the driver is paid. The user then has to actually book them as expenses or set them up as recurring expenses for them to reflect on the P+L and/or other income/expense calculations.
To access this feature: Accounts > Expense Transactions > Add Other Expense > Expense Category
4. New load menu filters
We've made it even easier to find your loads in TruckLogics!
You can now search by creation date or pickup/delivery date!
To access this feature: Loads > Search
Like what you see?
Want to try TruckLogics? Get a 15-day free trial today! There's no obligation and no credit card information required.