8 Amazing New Trucklogics Features Added In August
Check out the latest additions to TruckLogics

|

Here at TruckLogics, we're always looking for ways to improve your Trucking Management Software experience.
That's why we're constantly updating, fine-tuning, and adding new features to help you make the most of your trucking business.
Check out the latest TruckLogics updates and how to use them below!
1. Global Search
We have added a global search bar at the top of every page so that you can for any Load, Dispatch, Invoice, Contact, or Truck information from anywhere in the system.

To access this feature: Click on the search bar from anywhere in TruckLogics.
2. Mega Settings Menu
We have created a quick settings menu drop-down so that you can access any of your settings from anywhere in the system.
To access this feature: Click on the settings icon
3. TruckZone Card view
We have made it easier to view all your equipment in one place! The new card view gives you a snapshot of everything you need to know in one place. (You can still use the old view if you want.)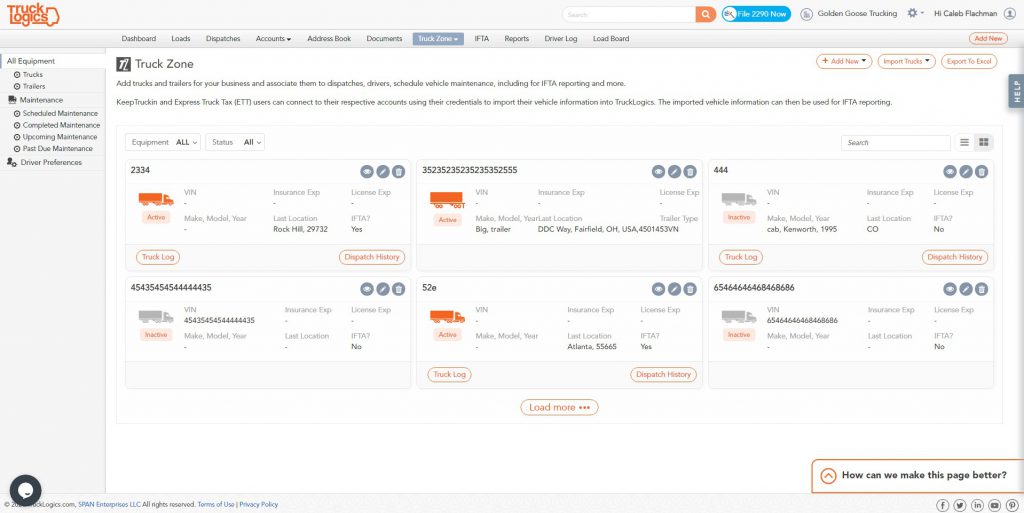 To access this feature: Go to the Truck Zone tab.
4. Route plan in dispatches
ProMiles Route Directions in the Routing section now appear like they do in the create Load section. The directions can now be emailed directly to your driver. You can also send directions using the Google Maps route. To access click Directions on your routing tab for any dispatch.

To access this feature: Dispatch > Routing
5. Email Route Plan to Driver
To make routing even easier for your drivers, you can now generate a route plan and email it to your driver with just a few clicks.
To access this feature: Dispatch > Routing > Route Plan > Send E-Mail to Driver
6. Send BOLs for e-signatures from the mobile app
You can email and share BOLs to your consignees, shippers, and drivers using the TruckLogics mobile app! You can still sign with your finger as well!
To access this feature: Dispatches > DOCS > BOL
7. KeepTruckin Vehicle Import
If you use KeepTruckin ELDs, you can now import truck information directly into your Trucklogics account! It only takes a few clicks to make sure all your information matches.

To access this feature: Truck Zone > Import Trucks > Import from KeepTruckin
8. KeepTruckin IFTA Data Import
IFTA reporting just got easier! If you use KeepTrucking ELDs, you can import mileage and distance information directly from your KeepTruckin ELD account into TruckLogics. Our system will then calculate and generate an IFTA report or worksheet for filing with your base jurisdiction.

To access this feature: IFTA > Start Return > Import from KT
Try TruckLogics
Get a 15-day free trial today! There's no obligation and no credit card information required!


Notice: Theme without comments.php is deprecated since version 3.0.0 with no alternative available. Please include a comments.php template in your theme. in D:\web\users\blog.trucklogics.com\wp-includes\functions.php on line 4722