We Made 7 Major Updates to TruckLogics In May!
TruckLogics just got even more powerful

|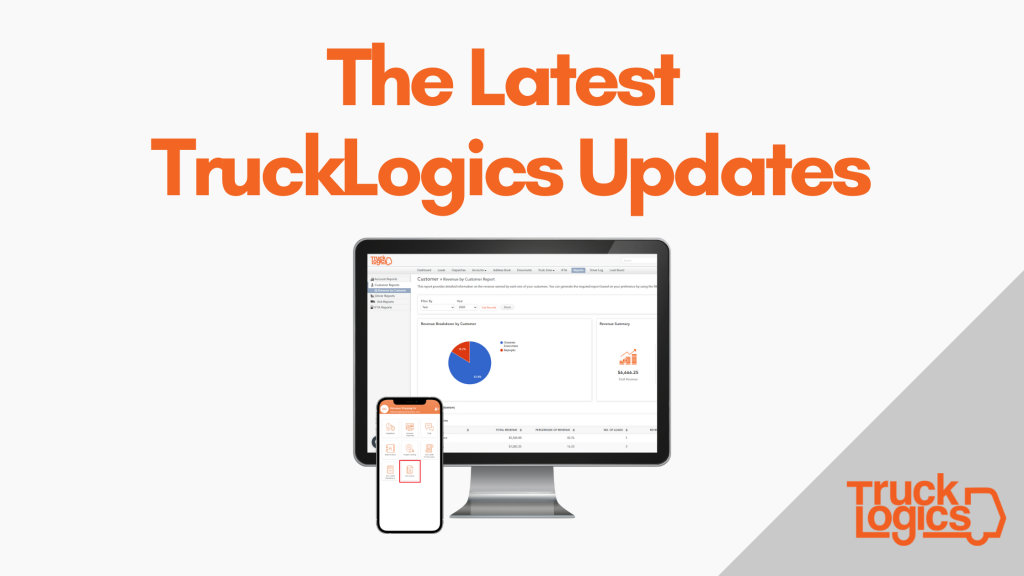 Here at TruckLogics, we're always looking for ways to improve your Trucking Management Software experience.
That's why we're constantly updating, fine-tuning, and adding new features to help you make the most of your trucking business.
Check out the latest TruckLogics updates and how to use them below!
1. Mobile Document Access/Sharing
Our mobile app just got even better! You no longer need to be at your computer to share and access all your TruckLogics documents! You and any of your authorized staff members can use the new documents section to upload new documents, associate them with dispatches, and share them.
To access this feature: Documents
2. Revamped customer revenue report
We have revamped our revenue by customer report to make it even more easy to use. Upon opening, you will be immediately presented with a percentage breakdown by customer and revenue summary breakdown. This makes it easier to check on the health of your business.
To access this feature: Reports > Revenue by Customer Report
3. Form 2290 pre-filing for 2021-22
Exciting news! You can now pre-file your 2021-22 Form 2290 using the TruckLogics mobile app! By filing early, you'll avoid the rush of peak season, have more time to save for your HVUT payment, and get your stamped Schedule 1 first thing on July 1st!
To access this feature: Dashboard > Form 2290 (Schedule 1)
4. New invoice emailed icon
To make at-a-glance record keeping simpler, we've added an icon that shows you which invoices have already been emailed! You no longer have to click on each invoice to check if it has been sent. Just look for the colorful new icon!
To access this feature: Accounts > Invoices > Open Invoices
5. Switch invoice numbering system from manual to automatic or vice versa
If you need to change up your invoice numbering system, you can now do that with the click of a button. Whether you need to manually enter invoice numbers, or automatically generate them for each dispatch, the choice is yours!
To access this feature: Settings > Invoice Number
6. Create Custom Document Folders
You can now organize your documents into custom-titled folders! This will enable you to keep documents for individual clients, drivers, dispatches, or whatever your business needs.
To access this feature: Documents
7. Check call time zone added to email notifications
When you or your drivers add check calls in the mobile app and send an email notification to customers, brokers, or carriers, the time zone is now automatically included. The time zone will be the one set at the account level by the Admin.
To access this feature: Dispatch > Check Call > Add Check Call
Want to Try All Of These Great Features?
You can get a 15-day free trial today! There's no obligation and no credit card required!