Navigating TruckLogics: A Comprehensive Guide to Contact Categories in the Address Book
|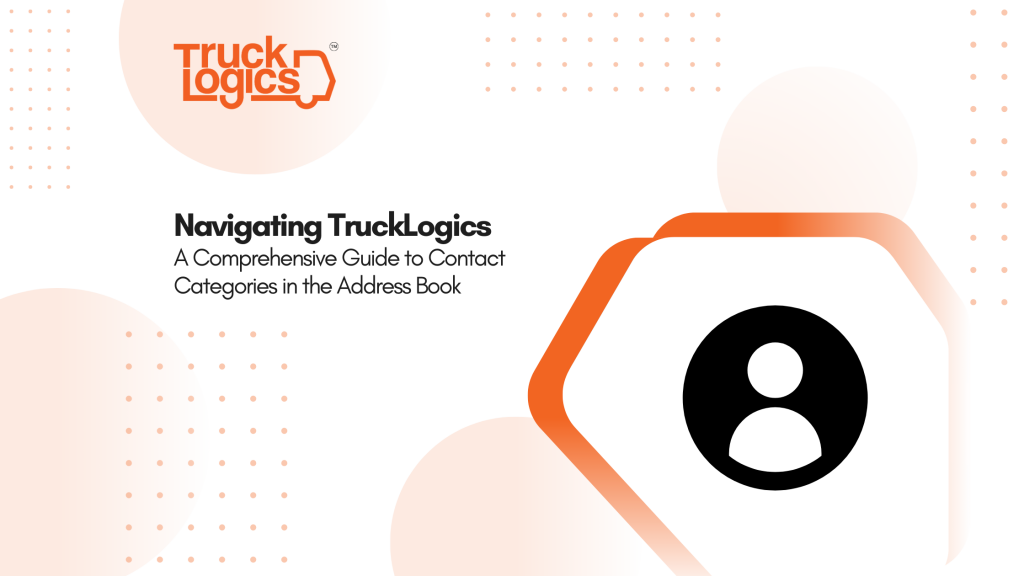 Every feature of TruckLogics is designed to make managing all aspects of your trucking business as effortless as possible. Our Address Book is no different – the categories allow you to sort contacts, which simplifies finding the right driver or customer when creating a load, for example.
We know you know a lot of people, and we're here to help!
Customer
Adding a customer as a contact in the Address Book provides you with a few different options. You can add companies as customers in TruckLogics so that they're available under the "Customer" section when creating loads, but you can also add the name of your specific contact at a company.
This streamlines communication and makes it easy to remember how exactly you're associated with the people and companies you deliver to and from.  
Driver
There are quite a few details and features to be aware of when adding a contact as a driver in TruckLogics. Obviously, you can add essential information like the driver's name, phone number, and work email address, but that's not all. You can also add extra info like whether the driver is an employee or a contractor, and whether they're currently active or inactive.
This ensures that you can find the right driver for the job in seconds, saving you frustration in the process. Plus, after adding your driver's information, you can give them access to the mobile app through your unique company login portal!
Broker
When adding broker contacts, the first option you're presented with is whether the broker is a company or an individual. In the same vein as the customer profile, you can also enter the name of your specific contact at a company when adding a contact as a broker.
You can also include details like MC Number, US DOT Number, EIN, and more, meaning that you'll never get your brokers mixed up.
Vendor
For the most part, contacts added as vendors in TruckLogics have the same basic information as the other contact types. One added feature is the "Preferred Vendor" checkbox. Checking this box specifies that this is the vendor you use most often, and it will appear first when prompted to select a vendor throughout the software.
Carrier
The carrier contact in TruckLogics is very similar to other contacts in that you specify the name of the carrier as well as the name of your specific contact at the company.
You can also add MC and US DOT Numbers.
Factoring
The factoring contact in TruckLogics is very similar to other contacts in that you specify the name of the factoring company as well as the name of your specific contact at the company.
Additionally, you can make the added factoring company your default within the software, meaning that it will be the first one to appear and will fill in when selecting a factoring company.
Staff
The staff contact includes basic details like name and email, but can also include Employee ID and date of birth.
Similar to your driver contacts, staff can be added as users of your company's multi-user portal, allowing them to access TruckLogics through your own unique login page.
Contact
A catch-all for any contacts that don't fit into the other categories, the contact category includes the same basic information as the other options without the title.
Why Sort Contacts?
In TruckLogics, categorizing contacts as you add them to your address book can save you tons of time later. Searching for contacts becomes easier, as the address book allows you to filter by the contact category, meaning that you can search through only your customers, only your drivers, and so on.
Additionally, contacts in the address book appear in various places throughout TruckLogics. Creating a load is a piece of cake when your carriers and brokers are all easily accessible from the "Draft Load" menu. Generating driver settlements becomes a breeze when your drivers are all listed in the accounts tab, and the same goes for creating invoices for customers. Everything is connected, and categorizing your contacts is a small step that pays off in the long run.
For more great information about how TruckLogics provides solutions catered to your trucking business, be sure to stop by a session or two during the October webinar series! It's free, informative, and recorded for you to come back to it when you need it.
Visit our support page to see more frequently asked questions and receive additional assistance. For other great reads, check out the rest of our blogs!