Watch Out! The 2290 Due Date is Almost Here
Make sure you file your 2021-22 Form 2290 before the deadline to avoid penalties!

|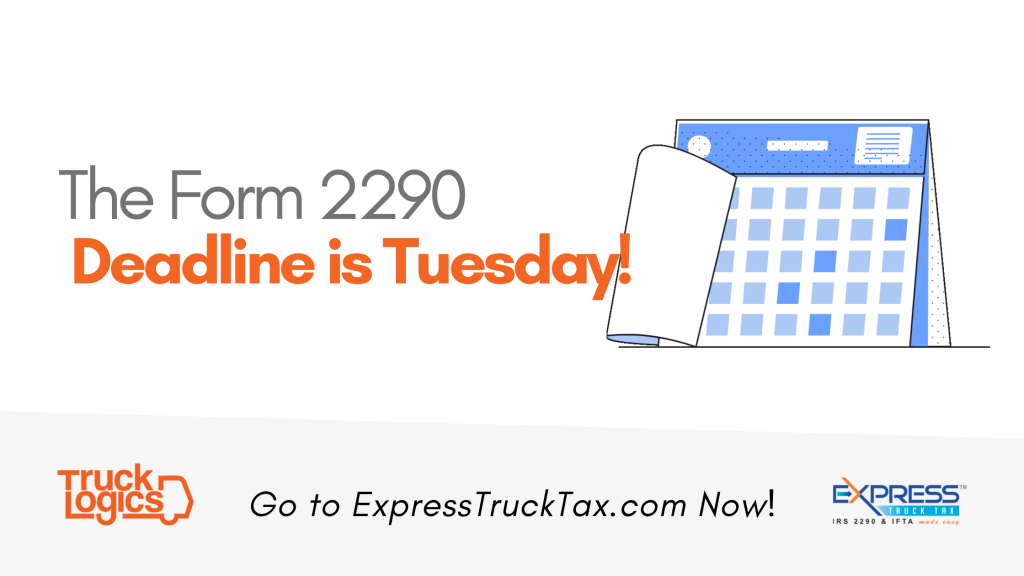 By now you probably know that the 2290 deadline is coming up.
Have you filed your Form 2290? If not, take advantage of this quick HVUT 2290 rundown. 
In just a few minutes, you'll have everything you need to file your heavy use tax before the 2290 filing deadline.  
What the 2290 Deadline Means to You
The 2290 Filing Deadline
The Form 2290 due date is August 31, 2021! Filing before the 2290 due date is critical for avoiding IRS penalties. If you're thinking "they can't be that bad", think again.  
2290 Filing Penalties
The late filing penalty for Form 2290 is 4.5% of the total HVUT 2290 tax amount you owe, with an additional 0.54% interest each additional month.
However, filing Form 2290 but failing to pay your heavy use tax amount only leads to a penalty of 0.5% of your total HVUT 2290 tax amount with additional interest of 0.54% each month.
If you can't afford to pay your heavy use tax amount, file Form 2290 anyway.
The 2290 filing deadline is no joke, and the IRS takes it seriously. You should too. If you don't file before the 2290 tax due date, you won't have an updated 2290 Schedule 1, which is necessary for truck operation.
The Quickest Way to File IRS 2290
Considering that we are just 2 business days away from the 2290 deadline, the most important thing right now is filing quickly and accurately.
Filing Form 2290 fast will ensure that the IRS approves it by the 2290 filing deadline. Plus, if it is rejected for any reason, you'll have time to make corrections.
Accurate filing will save you time by keeping you from having to make Form 2290 corrections.
The 2290 tax due date is non-negotiable, but who you choose to file Form 2290 with is. Choose ExpressTruckTax, the industry-leading IRS-authorized e-file provider to file and pay HVUT 2290 quickly and easily. 
You'll receive an instant error check to help you avoid delays and free VIN corrections if needed.
Best of all, you'll get a copy of your 2290 Schedule 1 within minutes of filing your heavy use tax. Whew, that was a quick rundown – just about as quick as our Form 2290 filing system is.  
Taxes shouldn't be that difficult. Don't stop your life for some paperwork. File on the go with ExpressTruckTax, and get it over with.