Trucking Turkey Tips with TruckLogics
Happy Thanksgiving from TruckLogics!

|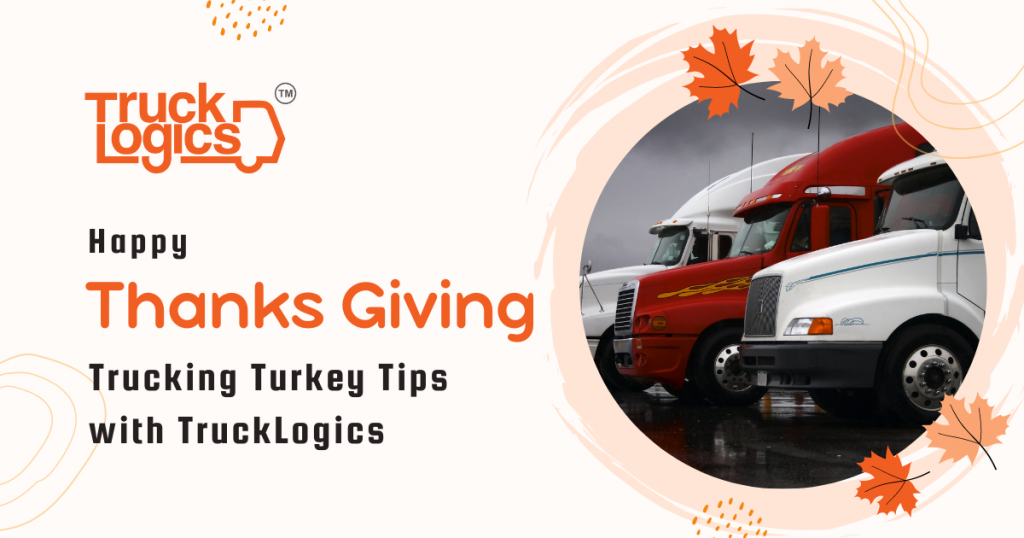 It's that time of year again, Thanksgiving, a time to be thankful for all of the important things in our lives. Trucking keeps our nation moving all year round, especially during Thanksgiving. Here at TruckLogics, we understand and appreciate the importance of the transportation industry in this country. TruckLogics is a full Trucking Management Software that allows transportation businesses to manage all aspects of their daily operations. From dispatching to managing vehicles and equipment maintenance to managing and paying drivers, TruckLogics does it all. We also want to offer you some great tips to make your Thanksgiving even better this year.
Travel
Thanksgiving is one of the most traveled holidays of the year so it is good to keep this in mind when heading to your destination. Expect delays from the number of people on the road and possible accidents and traffic jams. Make sure you keep your eyes on your surroundings when driving and stay alert while on busy roads. Be aware of those around you to prevent accidents and stay well rested. Also, keep in mind that Thanksgiving presents opportunities for cargo theft, so don't leave your truck unattended for too long to avoid cargo being stolen.
Food
Are you planning to spend time with your family this Thanksgiving? If so we hope you enjoy a great home-cooked meal and plenty of family Thanksgiving traditions you may have. For drivers on the road, a delicious meal can still be enjoyed even away from home. While driving on the road during the holiday, keep an eye out for places like Bob Evans and Cracker Barrel that are offering Thanksgiving meals. Some other places such as Pilot Flying J and other truckstops offer thanksgiving deals on food items for our heroes on the road.
Having a crock pot or a roaster can be essential for enjoying a nice Thanksgiving dinner in your truck. If you want some sides to go with your turkey you can try finding some things at a truck stop or a grocery store. Some sides and holiday treats that can easily be found include but aren't limited to mashed potatoes, canned veggies, macaroni and cheese, and anything else you like to eat for Thanksgiving dinner that can be heated up in your truck.
Happy Thanksgiving Truckers
Keep these tips in mind whether you are staying home or traveling this Thanksgiving holiday. We are thankful for everything you do to deliver essential goods across the country. We do hope you get time to spend time with your families during the holidays. Use alternate routes if needed to avoid heavy traffic jams and take some time to stop and eat a delicious Thanksgiving meal. Happy Thanksgiving truckers, from all of us here at TruckLogics!