TruckLogics is Ready to Help you Generate your Third Quarter IFTA Report
Create your Third Quarter IFTA Report with TruckLogics before the October 31st deadline.

|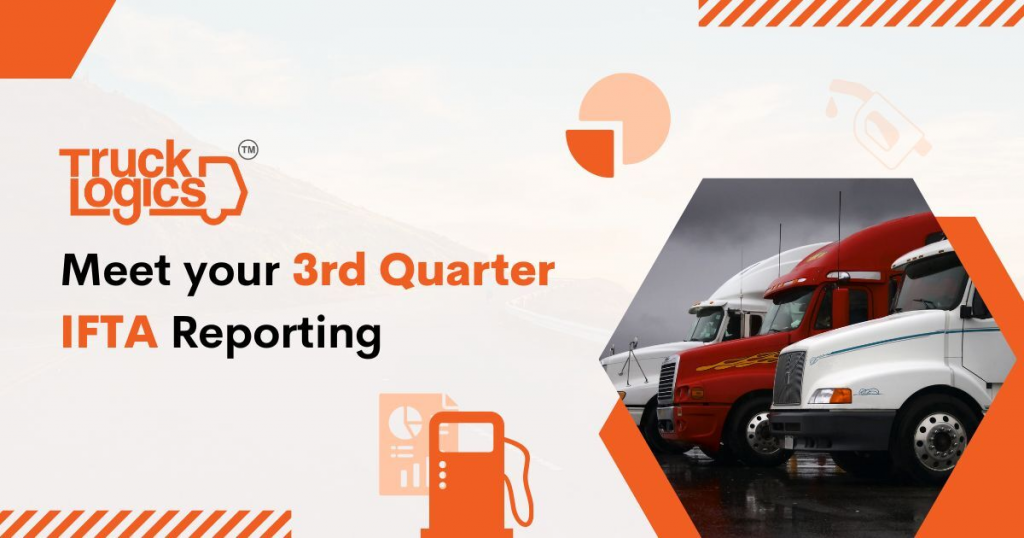 The International Fuel Tax Agreement (IFTA) was made with the United States (excluding the District of Columbia, Alaska, and Hawaii) and ten of the Canadian provinces. It is designed for truck drivers to report fuel purchased in each state to their base jurisdiction so that the base jurisdiction can distribute the taxes to each state the fuel was purchased in. IFTA must be filed for a vehicle if it weighs more than 26,000 pounds, has three or more axles, and travels through two or more jurisdictions.
IFTA is filed quarterly and the time frame of each quarter is as follows:
Quarter 1: January 1 – March 31
Quarter 2: April 1 – June 30
Quarter 3: July 1 – September 30
Quarter 4: October 1 – December 31
The deadline to file for each quarter is as follows (If the deadline falls on a weekend or holiday, the deadline will be moved to the next business day):
Quarter 1: April 30 (May 2, 2022)
Quarter 2: July 31 (August 1, 2022)
Quarter 3: October 31
Quarter 4: January 31
It is officially October which means the deadline to generate your IFTA report for the 3rd Quarter 2022 is Monday, October 31st. IFTA reports need to contain the number of miles and fuel purchased in each jurisdiction traveled through that quarter between July 1st and September 30th.
IFTA can be reported manually by the driver but the process of calculating all of the miles required can take a while. There is also a chance that the calculations will be incorrect especially since IFTA tax rates in each jurisdiction are subject to change. If calculations are incorrect there is a chance that your IFTA report will not be accepted. In order to ensure that your IFTA will be calculated correctly, TruckLogics does the calculations for you and automatically has the updated IFTA tax rates for each jurisdiction. This way your form is completed in a way specific to your jurisdiction and you don't have to spend too much time on it.
Simply enter the miles traveled and the amount of fuel purchased in each jurisdiction. TruckLogics will calculate the tax rates and the IFTA Tax. The report will be generated in an acceptable format specific to your base jurisdiction. The reports are printable so that you can paper file your IFTA with your base jurisdiction, however, if your base jurisdiction does not accept paper filing, TruckLogics will generate an e-file worksheet so that you can file your IFTA electronically.
If you want to make sure your IFTA report is done quickly and accurately, choose TruckLogics. By selecting the TruckLogics IFTA only option, you are able to generate your IFTA reports and only pay once the report is generated. If you are looking to not only generate IFTA reports but also help manage your trucking business, TruckLogics also offers a full Trucking Management Software designed to help streamline your trucking business operations with IFTA reporting available in the preferred and premium plans. What are you waiting for? Start generating accurate IFTA reports with TruckLogics today!