FREE TruckLogics Webinar: Everything You Need To Know About The 3rd Quarter IFTA Deadline
Join us for a free TruckLogics webinar on October 10, 2022 to learn all about IFTA!

|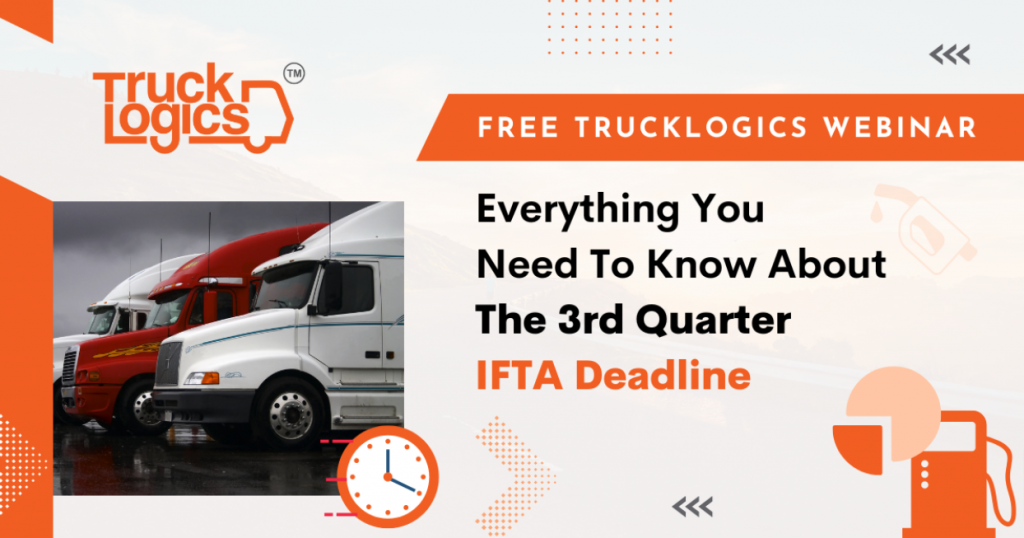 Are you required to file IFTA? Are you preparing your IFTA report for the first time and need to learn more about IFTA and whether or not you need to file it? Are you a seasoned trucker needing an IFTA refresher? Whatever the case may be, TruckLogics is hosting a FREE webinar where we will answer all of your IFTA-related questions.
Our very own ExpressAmber, and our TruckLogics expert, Christie, will be covering the following topics:
An overview of the International Fuel Tax Agreement
What information you are required to report each quarter
How using TruckLogics will save you time
TruckLogics is an all-in-one Trucking Management Software that can help streamline your trucking business operations. By using TruckLogics, you are able to create dispatches, manage drivers, assign drivers to dispatches, track dispatches, create loads, schedule equipment maintenance, pay your drivers, and much more. By subscribing to the preferred and premium plans, you are able to generate IFTA reports as well. If you are only interested in generating IFTA reports, TruckLogics offers an IFTA-only option. We will go into both of these options in the FREE Webinar.
TruckLogics will be hosting this webinar on:
October 10, 2022, at 4:00 pm EDT
To Register for the Webinar, click the button below!