Generate IFTA Reports for Previous Quarters or Years with TruckLogics
You can still generate IFTA reports for previous quarters and years with TruckLogics.

|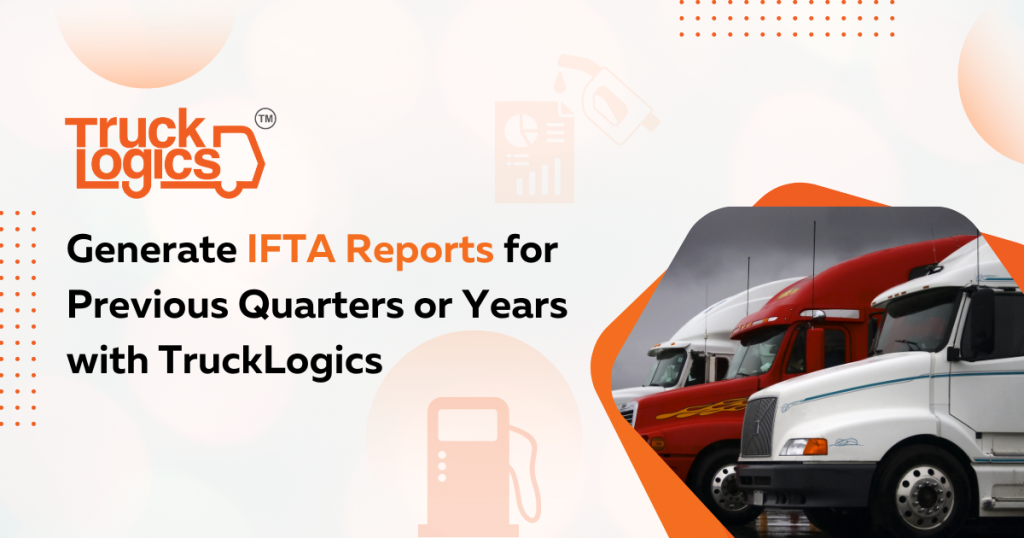 The IFTA deadline for the 3rd Quarter of 2022 is October 31st, 2022. It is important that you generate your IFTA report and file it with your base jurisdiction before the end of the quarter if you are required to do so. Drivers that are required to file IFTA must operate a vehicle weighing 26,000 pounds or more, the vehicle has three or more axles, and if the vehicle travels through two or more jurisdictions in the 48 contiguous United States and 10 Canadian provinces. 
It is important that you don't miss the deadline for IFTA. If you have ever missed any past deadlines, however, it is not too late to generate IFTA reports for previous quarters or even previous years. Please be aware that there may be fines for filing IFTA late. If you do need to file IFTA for the current quarter or for previous quarters or years, you can do so by using TruckLogics, an all-in-one Trucking Management Software that also offers an IFTA-only option. This option is used solely for generating IFTA reports and you only pay per report per quarter. 
Create a TruckLogics IFTA-only account with ease. All you need is a valid email and a password, general business information, and your state IFTA account information. If you do not know your IFTA account, you should contact your local IFTA office. Then you will enter the details of the fuel you purchased and the number of miles traveled in each state. You can either enter this data manually, use TruckLogics' excel template, or import the data through Motive ELD. You can even set it to convert from miles to kilometers and gallons to liters. The TruckLogics IFTA feature ensures accurate Fuel Tax calculations with IFTA tax rates that are updated automatically, and reports are generated in state-specific formats.
This is a fast and convenient process, especially if you have missed the deadline to report IFTA for previous months or even previous years. You are able to create IFTA reports with TruckLogics using either IFTA only or your existing account if you have a Preferred or Premium plan. Free trial accounts are not eligible to create IFTA reports.
If you do want the full TruckLogics Trucking Management System option in either a Preferred or Premium plan you will get complete IFTA report generation, load and dispatch management, integrations, accounting management, trucking maintenance, a useful mobile app, and much more. All of these features are designed to make your trucking business run more efficiently and smoothly. 
 If you would like to try the features offered by TruckLogics' Trucking Management Software, sign up for a 15-day free trial. This way you will be able to test all of the features, all integrations, and the TruckLogics Mobile app. If you are just looking to generate an IFTA report, register for an IFTA-only account today! What are you waiting for? Try either option today!