The Fourth Quarter IFTA Deadline is Today, January 31st!
Report your fourth quarter IFTA with TruckLogics today!

|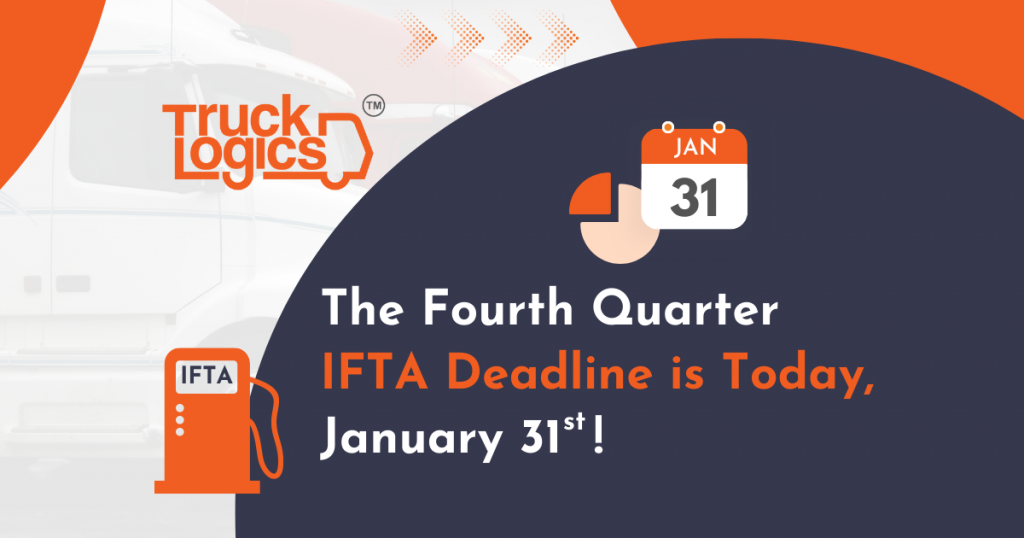 Are you required to report IFTA for your vehicle? Have you started creating your IFTA report for the fourth quarter yet? If not, today is the last day to create your fourth quarter IFTA report and file it with your base jurisdiction to avoid late filing penalties. The amount you will be fined depends entirely on your base jurisdiction. Typically the penalty for late IFTA filing is either $50 or 10% of the total tax due, whichever is the greater of the two. 
In order to avoid these late penalties it is important to generate your IFTA report before the deadline. Find out below how TruckLogics can make your IFTA reporting experience fast and easy. 
Convenient IFTA Data Upload Methods
Bulk Upload Via Excel Template
If you have all of your IFTA fuel and mileage data already entered into an excel document, you don't have to worry about entering it all again. Simply copy your IFTA data and paste it into the TruckLogics IFTA excel template. Here you can choose to calculate mileage by odometer readings or by distance. Once you have all of the information entered you will simply upload the excel template with all of your data into TruckLogics and then verify if the information is correct. 
Importing IFTA Data Using Motive
If you use Motive ELDs in your vehicles, you can connect your Motive account to TruckLogics and use that to import the miles traveled and fuel purchased in each jurisdiction traveled through. This method is easy for users who have a Motive account. Using this method means you don't have to do all of the data entry manually.
Manual Entry
If you prefer to enter all of your data manually you have the option to. Simply enter your vehicles and then enter the fuel and mileage data for each. TruckLogics makes this process easy and straightforward because even though you are entering it manually, your IFTA report will be generated based on the data entered. You can use manual entry to enter miles throughout the quarter. Once it is time to generate your report, all you have to do is click continue to begin generating your IFTA report. 
Accurate Calculations
Updated IFTA Rates
In order to ensure that your IFTA report is accurate, TruckLogics keeps track of IFTA tax rates in all jurisdictions that participate in IFTA including split rates. This way all of your calculations include the correct tax amounts. 
IFTA Calculation
Using these tax rates alongside the data that you have entered, TruckLogics will do all of the calculations for you so you don't have to. TruckLogics also offers data conversion options for metric units. TruckLogics will automatically calculate late fees if applicable, depending on what quarter you are filing for and when you are filing your IFTA report. 
Check for Accuracy
Adjacency Check
While you are entering your IFTA data, TruckLogics will automatically conduct an adjacency check to make sure the states in your IFTA report are adjacent to one another. You can turn this off at any time. 
Audit Check
The audit check is conveniently designed to flag fields that have no information put into them or values of zero. This ensures that you do not forget to fill out any parts of the IFTA report when generating it. If entering no mileage or fuel was intentional you can still do that, especially if you are reporting your vehicle in your IFTA report as nonoperational.
Use TruckLogics to Generate your Fourth Quarter IFTA Report for Today's Deadline
Once your report is complete with all of the IFTA data for your vehicle(s), your report will be generated in a format specific to your state. You can then print out the report and file it with your base jurisdiction if it allows paper filing. If it does not, TruckLogics will provide you with an e-filing worksheet to make entry into the state's e-filing system easy and stress-free. What are you waiting for? Don't risk getting fined for reporting your IFTA after the deadline. Generate your fourth quarter IFTA report with TruckLogics for a simple filing experience that will take the stress out of IFTA reporting!