Pre-File Your Form 2290 With ExpressTruckTax Today!
File your Form 2290 early with ExpressTruckTax today!

|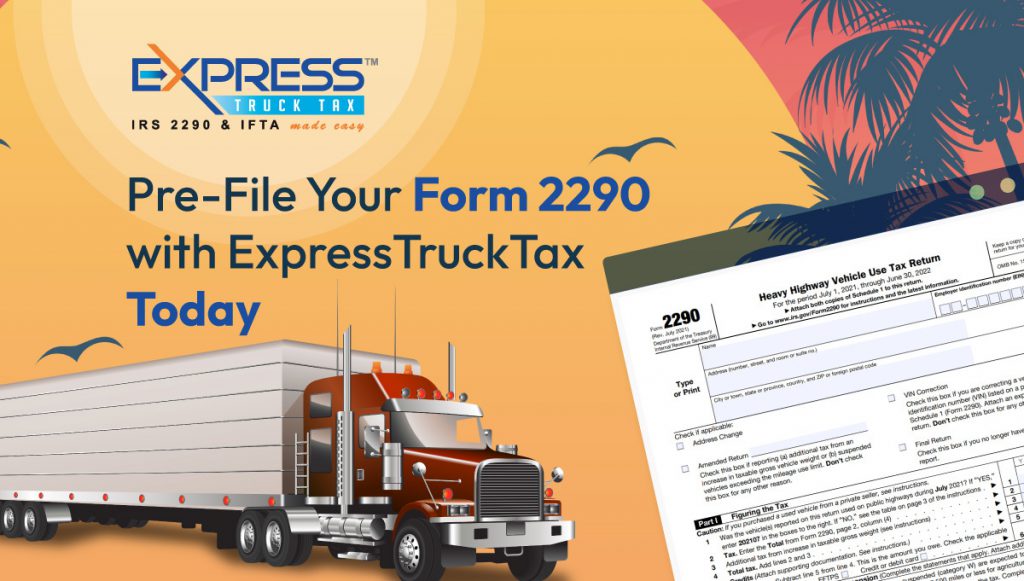 It's getting close to that time of year! It's nearly time to file Form 2290. With our sister company ExpressTruckTax, you can get ahead of the crowd and file early to beat the rush of everyone trying to file at the same time. By filing early you will get your stamped Schedule 1 as soon as the IRS begins accepting Form 2290. E-File with ExpressTruckTax and you can file Form 2290 as quickly as possible directly from the TruckLogics app!
What is Form 2290?
Form 2290 is a tax form that must be filed if a vehicle weighs 55,000 pounds or more and drives more than 5,000 miles a year, (or 7,500 miles if it is used for agricultural purposes) for the Heavy Vehicle Use Tax (HVUT). Even if the vehicle is driven less than the above-mentioned miles, the form must be filed but you will be exempt from paying the tax.
Why File Form 2290 Early?
The IRS doesn't start accepting Form 2290 until July 1st, so most people usually file around that time. If you wait until then to file, there is a chance that it will take longer for your Form 2290 to be processed by the IRS.
If you file your Form 2290 early with ExpressTruckTax through the TruckLogics app, however, your return will be transmitted to the IRS as soon as they start accepting Form 2290. By doing this you are able to receive your 2290 Schedule 1 as soon as possible. 
By filing your Form 2290 early, you are able to file now and pay later. File now with ExpressTruckTax and your tax payment does not need to be paid until August 31st. Depending on the payment method that is selected will determine when you will pay. If you select check or money order, EFTPS, or credit or debit card, you may submit your payment as soon as the IRS begins accepting them on July 1st and you have until August 31st to pay it. If you select electronic funds withdrawal your payment will be taken as soon as the IRS accepts the form.
Why Choose ExpressTruckTax?
ExpressTruckTax via the TruckLogics app offers fantastic live support via phone, email, and chat and their support team is here to answer any questions you may have about your Form 2290. 
With ExpressTruckTax you can file early and receive your stamped Schedule 1 faster so that you can use it to get the tags and registration for your vehicle. What are you waiting for? File Form 2290 today through the TruckLogics app and get your Schedule 1 as soon as the IRS starts accepting Form 2290!