Navigating TruckLogics – A Step-By-Step Guide to Adding Income and Expenses
|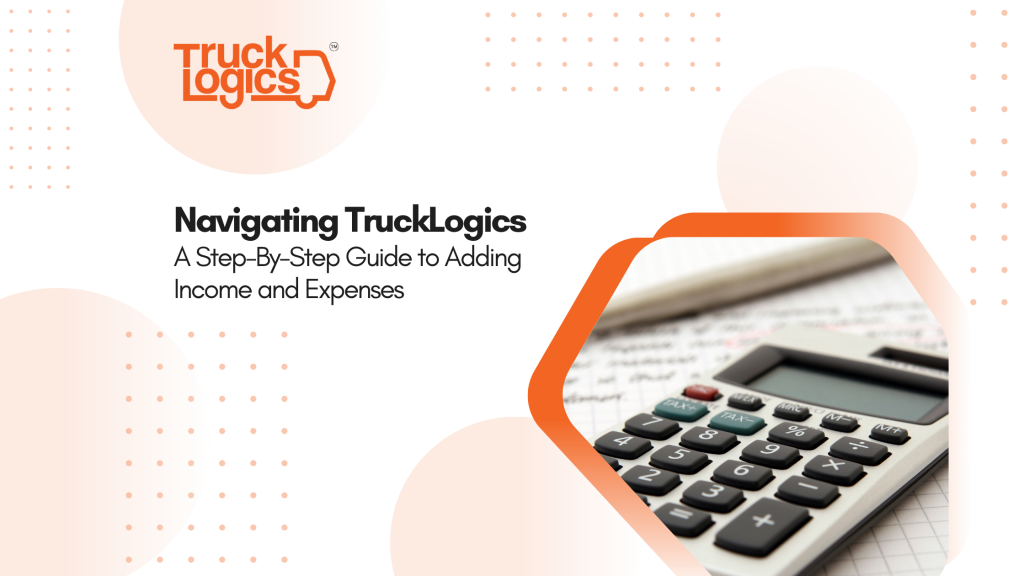 Managing income and expenses is a critical aspect of running any business, but it's especially important when it comes to trucking for a few different reasons:
Budgeting and Decision-Making

Creating accurate budgets and making informed decisions is the best way to ensure you're using your money and resources to their full potential. Optimizing routes and equipment purchases is much easier when you have good financial information to back up your decisions.

Tax Compliance

No one likes thinking about taxes or form deadlines, but keeping accurate income and expense records is a great way to make tax reporting a breeze when the time comes for that quarterly IFTA.

Maximizing Profit

Tracking your income and expenses allows you to calculate and monitor your profits in real-time, giving you the ability to make changes where needed in order to improve your overall profitability, and who doesn't like profit?
Adding income and expenses in TruckLogics is quick and easy, and allows you to keep track of your business's finances in one place. Here's how!
Income Transactions
All of your income transactions can be managed by clicking on the Accounts menu and navigating to Income Transactions. Here, you can view or edit any transaction made in your account and add more. You can also choose to refine your search based on Income Category and time period using the filter options.

Adding Income
Any amount that comes into your business against a dispatch as revenue can be added as income in your account.
Click + Add Income
Select the Income Category and Income Date
Enter the Payment Details and other Additional Details related to the income
Click Save

Expense Transactions
All of your expense transactions can be managed by clicking on the Accounts menu and navigating to Expense Transactions Here's what you can do related to expenses:
Add Fuel & Other Expenses – Add fuel and other expenses made for a dispatch.
Add Recurring Expenses – Add recurring expenses by selecting the expenses category and the frequency.
Upload Fuel Expenses – Bulk import fuel expenses using TruckLogics Fuel Up Template, Fleet One Template, or Comdata Template.
Approve or Reject Expenses – Expenses claimed by your driver that haven't been approved or rejected yet will be considered Pending Expenses. These expenses can be approved or rejected. The approved expenses are added as reimbursement in the driver settlement.
Delete Expenses – Remove expense details by selecting and deleting them.

Easy Enough! What's Next?
Sign up for TruckLogics now to try out seamless financial management and see what it does for your business.
Visit our support page to see more frequently asked questions and receive additional assistance. For other great reads, check out the rest of our blogs!
In addition, be sure to register for TruckLogicsCONNECT, our upcoming transportation industry forum on November 9th. This must-watch event features four breakout rooms throughout the day, each covering an aspect of business that's critical to your success. Learn firsthand from industry experts and take advantage of this free exclusive knowledge. Register now to reserve your spot!