March 15th is the Deadline for S-Corporations and Partnerships to File a Tax Extension!
March 15th is the deadline for S-Corporations and Partnerships to file a tax extension! Find out how to get an extension using our sister product ExpressExtension!

|
File Form 7004 in minutes to get up to 6 additional months to file your business taxes.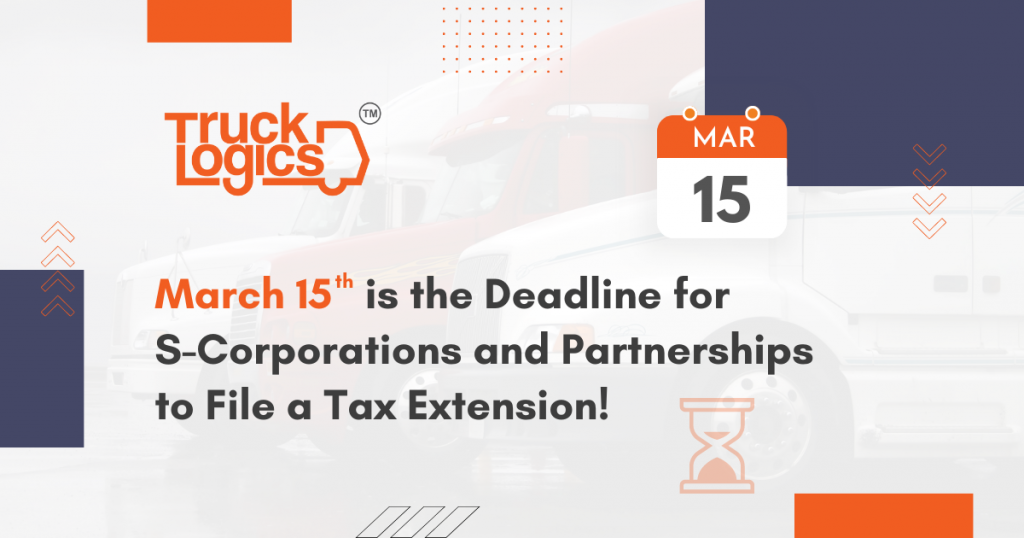 The deadline for S-Corporations, Partnerships, and many other businesses to file Form 1120-S, 1065, and many more is March 15, 2023.
If you need additional time to file taxes for your trucking business, it is not too late! Learn how to get a business tax extension before March 15th and extend your deadline by up to 6 additional months.
How can You Apply for a Business Tax Extension?
In order to request a tax extension of up to six additional months, you need to file Form 7004. No matter your reason for needing additional time, the IRS will automatically grant you a six-month extension to file your business tax returns. The application process is easy and you will likely receive approval within an hour.
Does the Tax Extension apply to Tax Payments?
Form 7004 only provides you with an extension for filing your business tax returns but not for completing your tax payment. If you owe taxes to the IRS and do not file your tax return or file an extension by the deadline, you will be faced with IRS penalties and interest. The total tax amount you owe to the IRS will determine your penalty amount.
Get your Business Tax Extension in Minutes with ExpressExtension!
IRS Form 7004 can be filed both e-filed and paper filed. The IRS, however, encourages you to e-file for quicker processing. All you need to do is file with an IRS-authorized e-file provider.
Our sister product ExpressExtension is an IRS-authorized e-file provider that allows you to e-file Form 7004 in minutes and get your business tax extension approved by the IRS upon acceptance.
Their easy-to-use filing system is equipped with built-in audits to ensure error-free filing. Under their Express Guarantee, you can get an automatic refund of your filing fee, if your Form 7004 gets rejected by the IRS as a duplicate filing.
If your form is rejected for any other reason, ExpressExtension allows you to correct and retransmit your form at no additional cost.
ExpressExtension also provides you with the option to make your tax payment (through EFTPS or EFW) alongside e-filing your Form 7004.
It is important to note that there are some states that require separate tax extension forms on top of the federal extension. With ExpressExtension, you can also complete and download business tax extension forms for certain states.
You have until March 15th to request an extension to avoid penalties! It only takes a few minutes to file your tax deadline extension with ExpressExtension.com!
File your Form 7004 today!