Be on the lookout for TruckLogics at the Mid-American Trucking Show 2023!
TruckLogics will be at the Mid-America Trucking Show this year, will you?

|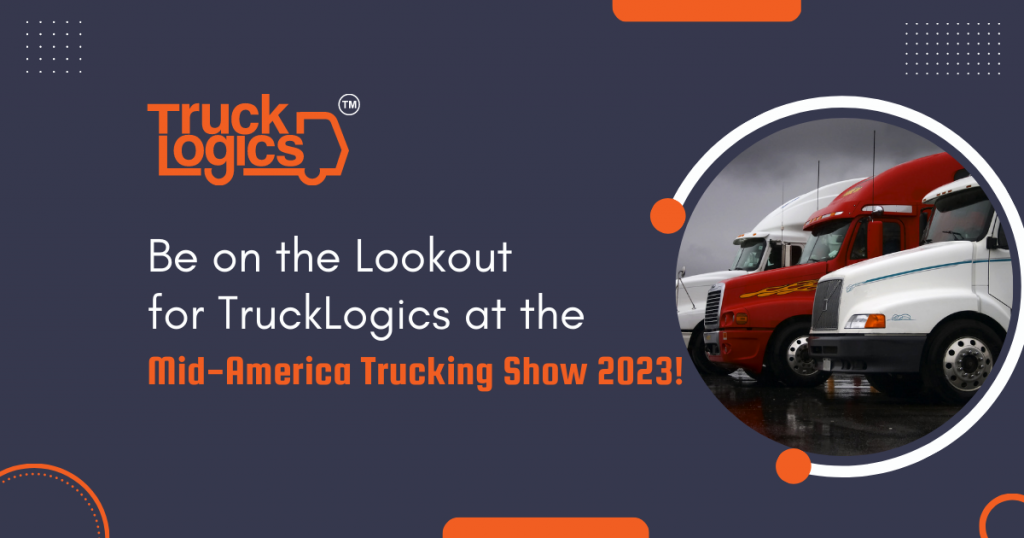 Is your trucking business attending the Mid-American Trucking Show (MATS)? If not, it is a great opportunity to learn about the industry's latest technology, products, equipment, and services in order to improve various aspects of your trucking business.
What is the Mid-America Trucking Show?
The Mid-American Trucking Show (MATS) is held in Louisville, Kentucky annually towards the end of March. MATS is the largest heavy-duty trucking trade show in the world where businesses and individuals in the trucking industry come together to network and gain further insight into the industry. 
History of MATS
In 1972, the Mid-American Trucking Show was founded to make heavy-duty trucking shows accessible to the eastern half of the United States. This created an opportunity for those in the industry to further develop their businesses and learn from the experiences of others within the industry. The show was geared towards fleets and owner-operators with the goal of being more accessible than other trucking shows held previously. The first time MATS was held in 1972, the show had roughly around 4,000 attendees and 83 exhibitors. Fifty-one years later, the event has grown to become the world's largest heavy-duty trucking show bringing in over 58,000 attendees and over 850 exhibitors. 
When is the Mid-America Trucking Show 2023? 
The 2023 Mid-America Trucking Show is being held from March 30th to April 1st at the following location:
Kentucky Expo Center 
937 Phillips Lane
 Louisville, KY 40209
The show hours are as follows:
Thursday, March 30th (VIP): 10 a.m. to 1 p.m.
Thursday, March 30th: 1 p.m. to 6 p.m.
Friday, March 31st: 10 a.m. to 6 p.m.
Saturday, April 1st: 9 a.m. to 4 p.m.
Know Before You Go
Registration for the Show
Before you head to MATS you should register in advance. There are three registration options available: attendee registration, exhibitor registration, and media registration. Attendee registration is geared toward trucking professionals looking to improve their business and see what's new in the industry through interactive exhibits, educational panels, and networking. If you are planning to walk around the expo in order to learn more about the industry, this registration option is one you consider. 
Exhibitor registration is geared toward company personnel looking to present their company's products and services through interactive exhibits or booths. If you are planning to showcase the innovations your business has brought to the industry or expand your reach by having an exhibit or display featuring your business, you should go with this registration option. 
Media registration is designed for the media and influencers looking to partner with MATS. If you are looking to feature MATS on social media or in other media outlets to highlight MATS and your own business by covering one of this industry's most trending topics, this is the registration option for you. 
What Events will the Show Feature?
In order to make sure you get the most out of your MATS experience, be sure to check out any of the events featured at the event. Stay up to date on the industry's latest trends, technology, and topics with informative talks from industry experts. 
Want the chance to network with the industry's top executives? Attendees have the option to attend the VIP Executive Breakfast for an additional $100 on top of their registration fee. Speak to executives about your business and learn from their experiences through informative talks from each featured executive. 
Need new trucks for your business but are unsure of where to start? MATS features a Ride & Drive event designed for attendees to test drive trucks with the latest technology perfect for ideal trucking efficiency. The drivable trucks featured in this event include a Kenworth W900 Limited Edition, a Western Star 57X, a Western Star 49X, and a Kenworth T680 Signature Edition. In order to participate in this free driving event, you must sign up at each truck's respective booth. 
MATS also features the PKY Truck Championship, showing off the industry's best custom trucks, the MAC Trailer Winter Nationals Championship Pulling Event on Saturday evening, and live performances from Elvie Shane and Tony Justice. 
TruckLogics at MATS
Are you a current TruckLogics subscriber or someone looking to improve your trucking business operations with a full Trucking Management Software? If so, be on the lookout for representatives of TruckLogics walking around the event handing out informational cards excited to meet you and discuss what we can do for your business.
What are you waiting for? Find out how TruckLogics can help your trucking business run smoothly and we hope to see you at the Mid-American Trucking Show!
For more information on the event visit https://truckingshow.com/.