How We Made TruckLogics Even Better in 2020
Highlights from our updates and integrations in 2020

|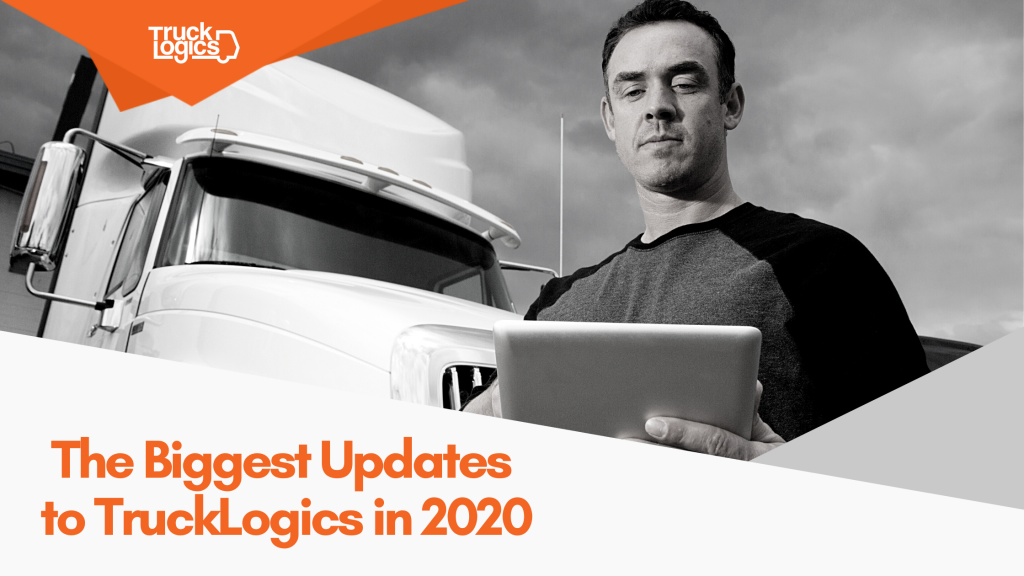 In 2020, TruckLogics TMS debuted some truly incredible features with the potential to revolutionize your business management process! To celebrate, we compiled this list of just some of the remarkable features that we added. Check out how we have made TruckLogics work even harder for your trucking business.
1. DAT Load Board Integration

In January 2020 our DAT Load Board integration went live! We are super excited about this feature because it means that truckers can find the best loads for them without ever leaving TruckLogics.
Once you connect a DAT Power account, you can use all of DAT's great search features right from TruckLogics. You can even communicate with prospects, import load information, and post idle trucks to DAT.
More information about the DAT Load board and Load Importing.

---
2. KeepTruckin ELD IFTA Integration

*Please note that KeepTruckin is now called Motive as of 2022.
Our other huge announcement is the addition of KeepTruckin ELD IFTA integration. This feature allows users of KeepTruckin ELDs to import their mileage and fuel consumption information into TruckLogics for easy IFTA reporting. KeepTruckin users can also import truck information and details.
More information about KeepTruckin IFTA integration.
---
3. New TruckLogics Broker Account
In April 2020, we launched our new TruckLogics account for freight brokers. This account type simplifies the lives of brokers with a powerful solution that includes all the features you have come to love from TruckLogics. Freight brokers can take advantage of easy dispatching, invoicing, reporting, and much more. For an in depth look at our broker account, check out our recent webinar.
More information about New Broker Account the Updates To It.
---
4. $0 Line Haul Dispatches for Yard Moves and Inventory Transfers
This new feature allows you to keep track of yard moves and inventory transfers quickly and accurately. This is useful for notating loads that incur expenses but you are not paid for. For instance, if you are moving a trailer from one yard to another, or picking up inventory that you will sell later.
Learn more about $0 Line Haul Dispatches for Yard Moves and Inventory Transfers.
---
5. E-sign BOLs
This great feature makes signing BOLs simple and contactless. Your customers, drivers, and shippers can all e-sign their Bills of Lading (BOLs). You can either email BOLs to your clients for their e-signature, or your drivers can pull up BOLs in the mobile app and have them e-signed there.
Learn more about E-signing BOLs.
---
6. Route plan in dispatches
Having the ability to view your route plan from within each dispatch makes it quicker and easier to navigate TruckLogics. Fewer clicks means you save even more time!
Learn more about Route Plans in Dispatches.
---
7. Save Loads as Drafts
Now, if you create a load but realize you don't have all the information you need yet, you can pause and save that load as a draft. Then you can find the information you need and finalize that load later.
Learn how to Save Loads as Drafts.
---
8. Settlement Revamp for Leased Operators
We overhauled the entire settlement process for leased operators so it more fully reflects their real-world process! You can now add multiple trips and the associated income and expenses to a single settlement.
Learn more about the Settlement Revamp for Leased Operators.
---
9. Global Search
Now, no matter where you are within the TruckLogics application, you can now search for loads or dispatches. This means fewer clicks for you and even easier access to the information you need.
Learn more about Global Search.
---
10. Negative Items on Invoices
Adding negative items to your invoices allows you to configure them for a quick pay or credit hold scenario where your broker or customer requires this be shown on the invoice as a negative item. It can also be used to account for any other fee imposed at load acceptance that was issued by your customer or broker. Keeping a full and complete breakdown of all the income and fees associated with receiving that income ensures accurate books and records.
Learn more about Negative Items on Invoices.
---
Try TruckLogics
If you aren't already using TruckLogics, you should be! We have solutions for every kind of trucking industry professional from brokers to owner-operators to leased-operators to fleet managers. Plus, you can try TruckLogics free for 15-days! There's no obligation and no credit card information required!