How-To Tuesday: Issue a Driver Advance with TruckLogics [Updated]
Learn how to issue a driver advance on a dispatch with TruckLogics!

|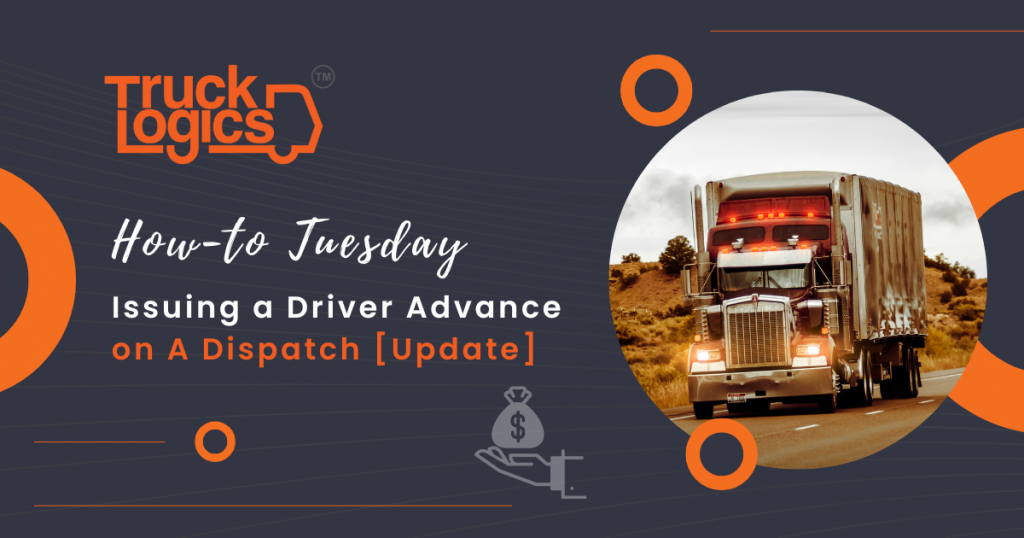 TruckLogics offers plenty of helpful features to help make the operations of any trucking business run smoothly. One of these great features is the ability to issue a driver advance on any dispatch. No matter if they make a fuel purchase or pay a lumper fee, giving them advance payment is easy and it will automatically be dedicated from their settlement later. In the steps below you will learn how to issue a Driver Advance with TruckLogics.
1. From anywhere within your TruckLogics account, click the Dispatches Tab.
2. Choose the appropriate dispatch. 
3. Click on the Driver & Equipment tab.
4. Select Make Advance.
5. Enter the Advance Amount, Payment Mode, and Payment Type. You can also add an optional attachment (such as a receipt), notify the driver via email, and/or enter a reference number. When you are finished click Save. 
6. You will now see the advance listed in the Driver & Equipment tab. 
7. You will also find it as a deduction on the driver settlement for this dispatch. 
By following these steps in TruckLogics you are able to successfully issue a driver advance with TruckLogics. This process will allow you to pay drivers in advance for various expenses. What are you waiting for? Issue advances for drivers conveniently in TruckLogics today!