How Does Trucking Dispatch Software Improve a Trucking Business's Efficiency?
A trucking dispatch software can greatly improve the efficiency of your trucking business!

|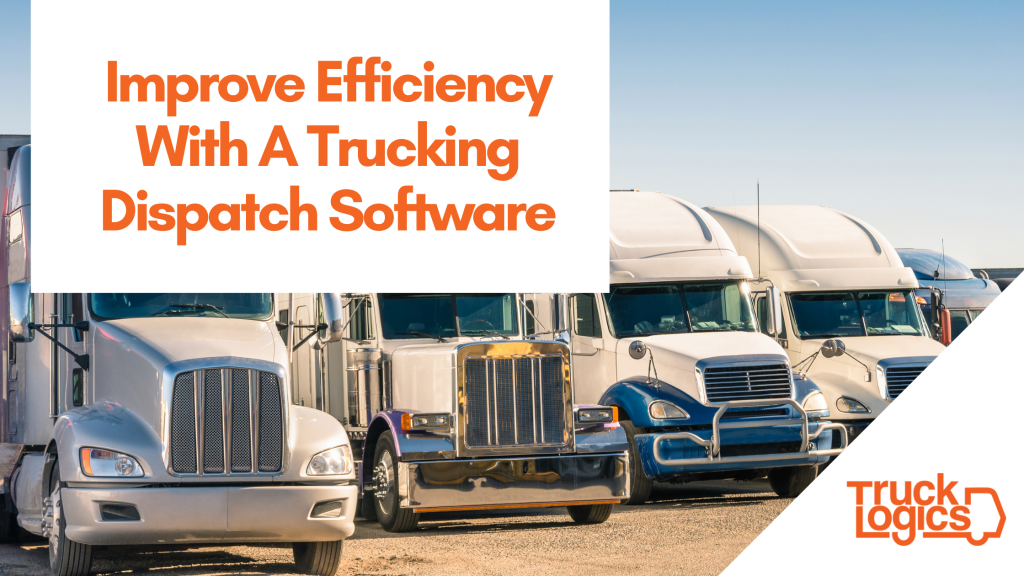 Trucking dispatch software helps trucking businesses manage their dispatches, loads, and much more from a single platform.
The best trucking dispatch software makes the dispatching process simple, painless, and fast. It should be easy to add your customer, shipper, broker, freight details, trucks, and drivers in a matter of minutes.
What features should a trucking dispatch software have?
At its core, trucking dispatch software should make your life easier. It should save you time and centralize your business to make record-keeping easy.
For instance, it should provide real-time reports to help you check on your company's bottom line. Profit and loss reports, customer revenue reports, IFTA reports, and year-end tax reports are all things you should look for.
Your dispatch software for trucking should also save your information for quick and easy dispatching. For instance, if you have a dedicated route, you should be able to clone dispatches for huge time savings.
With TruckLogics, the dispatching process is simpler than ever.
How does trucking dispatch software work?
TruckLogics makes it easy to add your load details, customer, carrier, and/or broker, your freight information, load charges, route, and much more! When you've finished with your load, you can then dispatch a driver and truck!
Dispatching is as simple as selecting or adding a driver and truck. You can then notify them via email or through the TruckLogics Trucking mobile app. You can also give contractor drivers the ability to accept or decline the dispatch.
Then, the driver will be able to update the dispatch with check calls, documents, and expense receipts throughout the trip. You can also set up check calls to update automatically when the driver enters and exits the pickup and drop-off locations.
When the dispatch is complete, invoices can be generated in a single click and then sent directly to your customer, carrier, and/or broker. Driver settlements are also a snap with ProMiles, which automatically calculates the trip mileage for easy pay-per-mile calculations.
Why is TruckLogics a unique truck dispatching software solution?
TruckLogics provides top-tier truck dispatching features for an affordable price. Every trucking business, no matter how big or small, can be efficiently run with a single-unified solution.
We also have tons of great integrations with other industry-leading solutions like DAT, Motive, and EFS to make it so you never have to leave TruckLogics to find your information.
We also offer 100% US-based customer support and a built-in mobile app to make your TruckLogics experience as seamless as possible! That's not something you'll find anywhere else.
How can TruckLogics help you run your trucking business efficiently?
In order to survive in the trucking industry, it's important to have a centralized system to help you run your business. In the complex world of 2021, just having a spreadsheet won't cut it anymore.
TruckLogics can help you with everything from dispatching to trucking invoicing to IFTA reporting. Your entire business will be at your fingertips, anytime and anywhere.
To try out all of our great features, claim your 15-day free trial today! You'll be able to create dispatches, invoices, and much more! Plus, there's no obligation and no credit card information required
So what are you waiting for? See how much TruckLogics can do for you today!