Form 2290: Two Weeks Left To File Before The August 31st Deadline
Hurry and file Form 2290 before the August 31st deadline!

|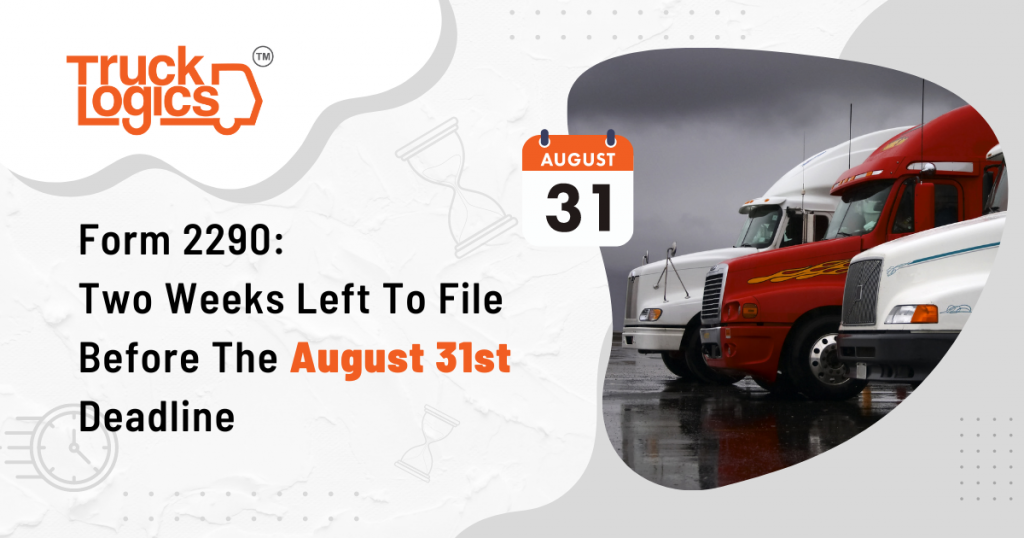 There are only two weeks left to file Form 2290! This means that drivers have only two weeks left to file before they get penalized or fined for being late with their Heavy Vehicle Use Tax (HVUT). Form 2290 is filed annually by drivers of vehicles weighing 55,000 pounds or more to the IRS. Filing Form 2290 guarantees that drivers will receive a Stamped Schedule 1 from the IRS that acts as proof of filing Form 2290. This Stamped Schedule 1 allows drivers to get their vehicle's tags and registration.
If drivers are found without a current Stamped Schedule 1, that is when penalties and fines can occur. There is also the possibility that a driver will get a ticket for not being able to provide a current Stamped Schedule 1 on top of getting fined. One way to avoid this is by Filing Form 2290 before the August 31st deadline.
The Form 2290 tax year goes from July 1st to June 30th each year. The Stamped Schedule 1 expires each year on June 30th so it is important to file starting July 1st. In this case, the truck's First Used Month is July and the tax payment is not due until the last day of the following month, which makes the HVUT tax payment deadline August 31st.
In order to make sure that drivers don't miss the deadline and file on time, TruckLogics' sister company ExpressTruckTax has the solution drivers need to file Form 2290. This way drivers don't have to worry about missing the deadline and getting fined by the IRS for being late with the tax payment.
Why ExpressTruckTax?
ExpressTruckTax is a market-leading Form 2290 e-filer that guarantees drivers will receive their Stamped Schedule 1 within minutes of filing. Drivers simply need to create an account with ExpressTruckTax and enter their information including their business information, their Employer Identification Number (EIN), their vehicle information including their Vehicle Information Number (VIN), if they are claiming any credit vehicles, and then their payment information.
ExpressTruckTax offers convenient payment options for drivers including Electronic Funds Withdrawal, EFTPS, check or money order, and credit or debit card. When using credit card filers can either choose to make their payment with a third-party payment processor or directly through ExpressTruckTax. This is a brand new feature that makes ExpressTruckTax even more convenient for filers because Form 2290 can be filed and the tax can be paid at the same time.
Before filers would have to go through an external payment processing site to pay their taxes and risk forgetting to pay, resulting in late fines. Now paying and filing are available in one convenient place! Now drivers don't have to worry about being late with their tax payments and get it all done at the same time.
Drivers, are you tired of being late with your tax payments? You don't have to worry about that anymore with ExpressTruckTax! What are you waiting for? File Form 2290 with ExpressTruckTax today and never worry about being late to pay your HVUT taxes again!