You Can Still Report Your Fourth Quarter IFTA with TruckLogics
Haven't generated your fourth quarter IFTA report? TruckLogics has your back.

|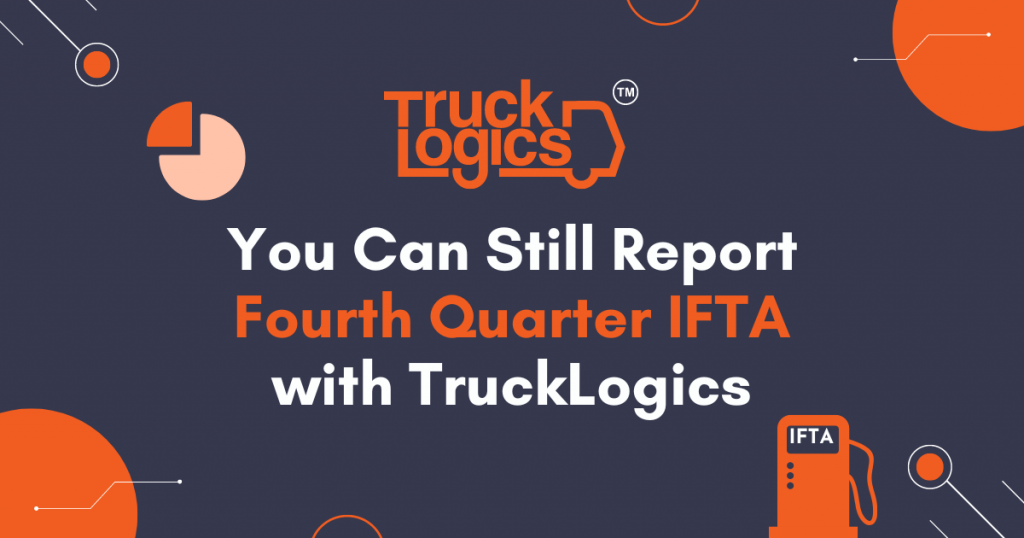 Didn't generate your 4th Quarter IFTA report? Don't worry, TruckLogics is here to help!
Are you a driver of a vehicle that meets the following criteria: weighs 26,00 pounds or more, has three or more axles, and travels between two or more jurisdictions? If this applies to you, there is a good chance that you need to register your vehicle with IFTA if it is not registered already. 
IFTA stands for International Fuel Tax Agreement which was made between the 48 contiguous United States and 10 Canadian provinces. Drivers of qualifying vehicles must report miles traveled and fuel purchased in each jurisdiction. They will then file this report to their base jurisdiction so that the taxes can be distributed to each jurisdiction in which fuel was purchased. 
IFTA is a tax that is reported quarterly and the time frame of each quarter is as follows:
Quarter 1: January 1 – March 31
Quarter 2: April 1 – June 30
Quarter 3: July 1 –  September 30
Quarter 4: October 1 – December 31
The deadline to file IFTA for each quarter is as follows (If the deadline falls on a weekend or holiday, the deadline will be moved to the next business day):
Quarter 1: May 1, 2023 
Quarter 2: July 31, 2023
Quarter 3: October 31, 2023
Quarter 4: January 31, 2024
While the fourth quarter deadline passed recently you can still generate your IFTA report for the fourth quarter as well as previous quarters with TruckLogics. Your IFTA will be considered late but any fines will be calculated along with the total tax amount owed once you generate your IFTA report. You can upload your data directly from your existing TruckLogics account (with a premium or preferred subscription) or use manual entry, bulk upload via an excel template, or upload your data using Motive.
While you cannot yet generate your first quarter IFTA report, you can start entering your data using any of the data entry methods mentioned above. Whether you need to start entering your data for the current quarter or generate your reports for previous quarters, TruckLogics has you covered. What are you waiting for? Start reporting IFTA with TruckLogics today!