Trucking with Your Pets: A Paws-itively Perfect Way to Hit the Road
|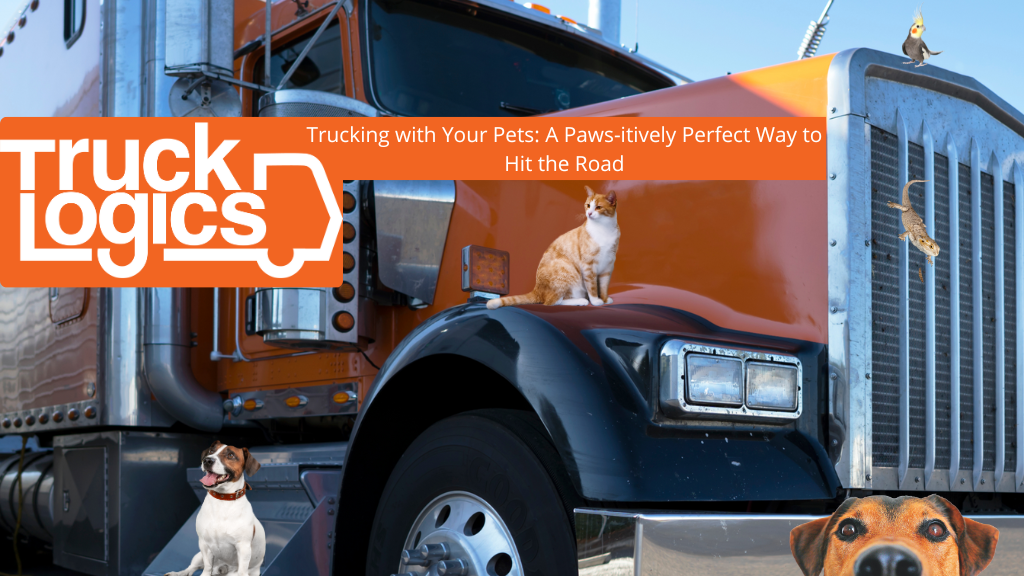 At TruckLogics, we know that truck driving can be a freeing, exhilarating, and rewarding experience. But let's face it–we all get a little homesick when we're away from home sometimes, and it's no different out on the road. If home is where the heart is, it makes sense that we'd want to take a piece of home with us. And what just might be the best piece of home to take with you? Your furry friend!

Truck Driving with Pets

More and more, research is showing just how big of an impact pets have on our lives.
And it isn't just our moods either–pets provide us with real-life health benefits. As a truck driver, having a pet gives you more chances to get active! For example, having to take walks with your pet is a great way to build an exercise routine into your day, and you can count on it to lower risk of certain diseases as well as reduce stress!
Beyond just the health benefits, it's hard to overstate how much happier a pet can make day-to-day life: especially in a job that can have a person away from home for a while at a time. A pet can provide truck drivers with companionship and entertainment during their trips, which hugely improves their moods and overall mental health. Having your pet on the road with you guarantees that you have a partner for all your journeys!

If being joined on the road by your four-legged companion sounds like something you'd be interested in, here's a few tips from TruckLogics to make sure your travels together go smoothly:

Food/Water/Treats–Make sure your companion is as well-stocked as you are! It can be tough to know what stops will have certain supplies, so be sure to keep some extra food for your friend.
Collar/Leash–For your friend's (and others') safety! Your pet is going to need to get out and stretch their legs often (and they can help remind you to do the same!), so a good way to do this safely is a must.
Carrier/Harness–The cab of a truck can be an unstable place for our four-legged pals. Be sure to provide them with something that limits their range of motion/keeps them stable for their safety and comfort!
Toys–Pets need entertainment too!
In the past couple of years specifically, we've all seen just how much pets can do to comfort us in times of stress and just how big of a lift they can provide us with whenever we need one. Whether you're looking to bring a friend from home into the truck with you or you're a truck driver looking to adopt and want a friend specifically for the road (small/medium sized breeds that are calm and easily trainable are best-suited), you can be sure that trucking with your pet is a great way to improve your trip.

TruckLogics supports all the truckers on the road, no matter how many legs they have–and with more and more companies allowing their drivers to take their pets with them, and companies like Love's adding dog parks to their truck stops, there's never been a better time to take your furry friend with you!