Today March 15th is the Deadline to File Form 7004 for a Business Tax Extension
Today March 15th is the deadline to file Form 7004 for a business Tax extension

|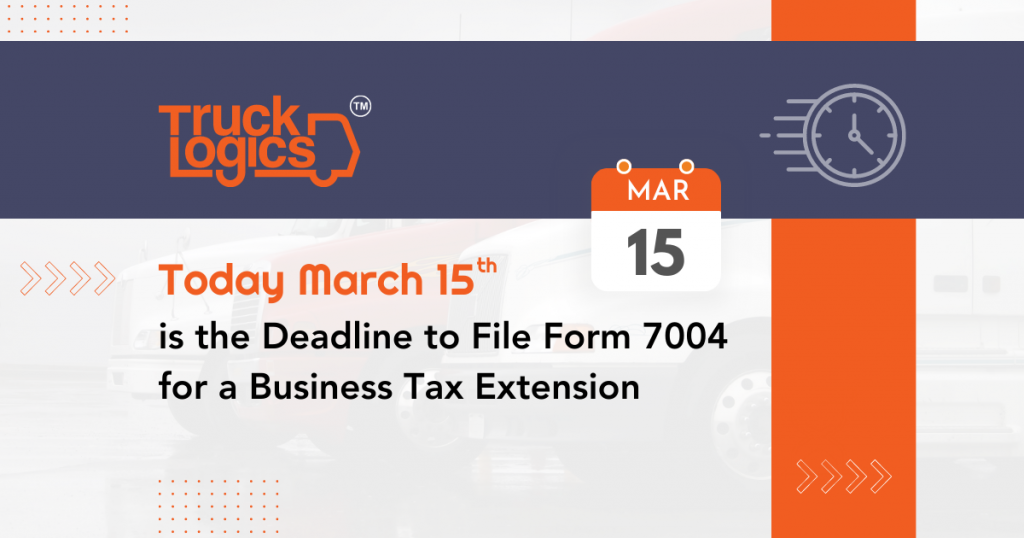 Today marks the deadline for certain businesses operating on a calendar tax year to file Form 1120-S, Form 1065, and many other business tax returns. One of the most crucial aspects of operating a business is meeting tax filing deadlines. If you are one of those businesses and have not yet filed your tax return, Extension Form 7004 is what you need.
What You Need To Know About Form 7004
Form 7004 is a federal tax extension form that can be used by businesses to request an extension of time of up to six months to file their business tax returns. Upon filing Form 7004 the granted extension is automatic. No explanation is needed for requesting a business tax extension.
Information Required to file Form 7004
You do not need to provide a lot of information in order to file Form 7004. You only need the following details to file Form 7004:
Your business type
Your business name, EIN, and business address
The current tax year followed by your business
The tax form you are requesting an extension for
Estimated tax dues, if any
Note: Form 7004 only extends the deadline to file your business tax return. You are still required to pay the taxes due within the original deadline.
Why Filing Form 7004 is a Smart Choice
We are already inching toward the Form 7004 deadline, which is at midnight on March 15th. There is not much time left to file your business tax returns.
Today is the deadline to file Form 1120-S, Form 1065, and many other business tax returns. Instead of rushing to prepare your business taxes, filing an extension Form 7004 provides you with extra time. This allows you to avoid having errors in your returns or getting late filing penalties.
ExpressExtension is the Solution to Simplify your Form 7004 Filing!
Our sister product ExpressExtension is an IRS-authorized e-file provider that allows you to e-file Form 7004 in minutes and get your business tax extension approved by the IRS.
Under their Express Guarantee, you are entitled to receive an automatic refund of your filing fee if your Form 7004 gets rejected by the IRS as a duplicate filing.
If your form is rejected for any other reason, you can fix the errors and retransmit your form at no additional cost.
You can choose to pay your taxes due through EFW or EFTPS while filing your Form 7004 with ExpressExtension. Internal audit checks will ensure that your extension Form 7004 is accurate and error-free before transmission.
ExpressExtension is not limited to federal tax extensions. You are also able to complete and download business tax extension forms for certain states.
It's still not too late to request a tax extension! It only takes a few minutes to file your tax deadline extension with ExpressExtension.com!
File your Form 7004 today!