Time is Running to File Form 2290 Before the Deadline
File Form 2290 now before the August 31st deadline!

|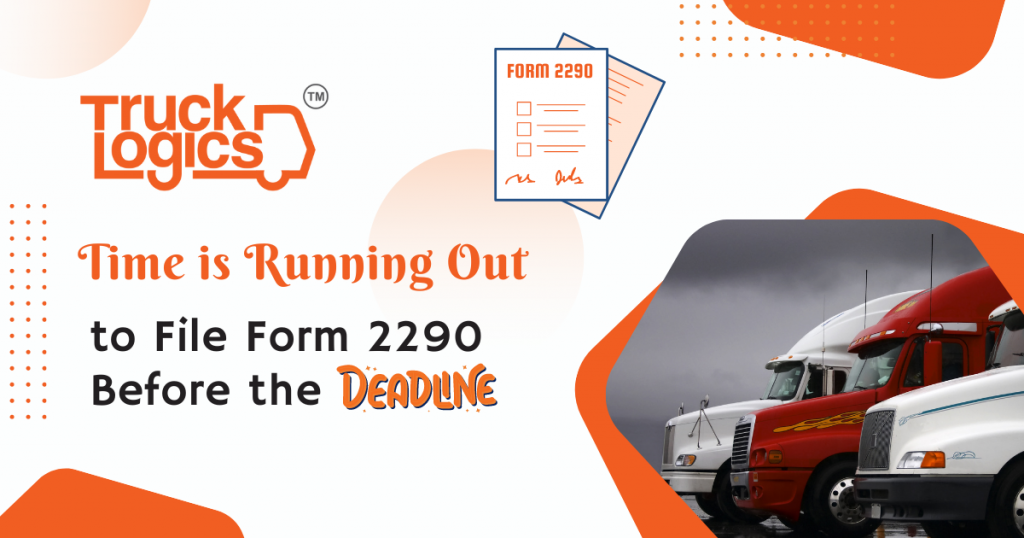 There are only a few days left to file Form 2290! This means that time is running out for drivers to file Form 2290 without getting late penalties. Form 2290 is filed annually by drivers of vehicles weighing 55,000 pounds or more to the IRS for the Heavy Vehicle Use Tax. Filing Form 2290 guarantees that drivers will receive a Stamped Schedule 1 from the IRS that allows drivers to get their vehicle's tags and registration. If drivers are found without a current Stamped Schedule 1, that is when penalties and fines can occur.
The Form 2290 tax payment deadline is August 31st because the Form 2290 tax year goes from July 1st to June 30th each year. The Stamped Schedule 1 expires each year on June 30th so it is important to file starting July 1st. In this case, the truck's First Used Month is July and the tax payment is not due until the last day of the following month, which makes the HVUTIn order to make sure that drivers don't miss the deadline and file on time.
TruckLogics' sister company ExpressTruckTax has the solution drivers need to file Form 2290. This way drivers don't have to worry about missing the deadline and getting fined by the IRS for being late with the tax payment. What makes it even better is that there is even an option to file Form 2290 through ExpressTruckTax using your TruckLogics account!
The market-leading Form 2290 e-file provider, ExpressTruckTax guarantees drivers will receive their Stamped Schedule 1 within minutes of filing. Drivers simply need to create an account with ExpressTruckTax and enter their information including their business information, their Employer Identification Number (EIN), their vehicle information including their Vehicle Information Number (VIN), if they are claiming any credit vehicles, and then their payment information.
ExpressTruckTax now allows filers to pay their tax directly through ExpressTruckTax via credit or debit card alongside the filing fee. Now drivers don't have to worry about being late with their tax payments and get it all done at the same time in one convenient place. 
Are you tired of your drivers being late with their tax payments? If they file through ExpressTruckTax they can file directly through TruckLogics using the File Form 2290 button. Your drivers can file easily and conveniently before the deadline! What are you waiting for? File form 2290 through ExpressTruckTax today!