The Dispatch Digest: How to Assign Drivers, Take Advantage of Check-Calls, and Streamline Dispatching!
|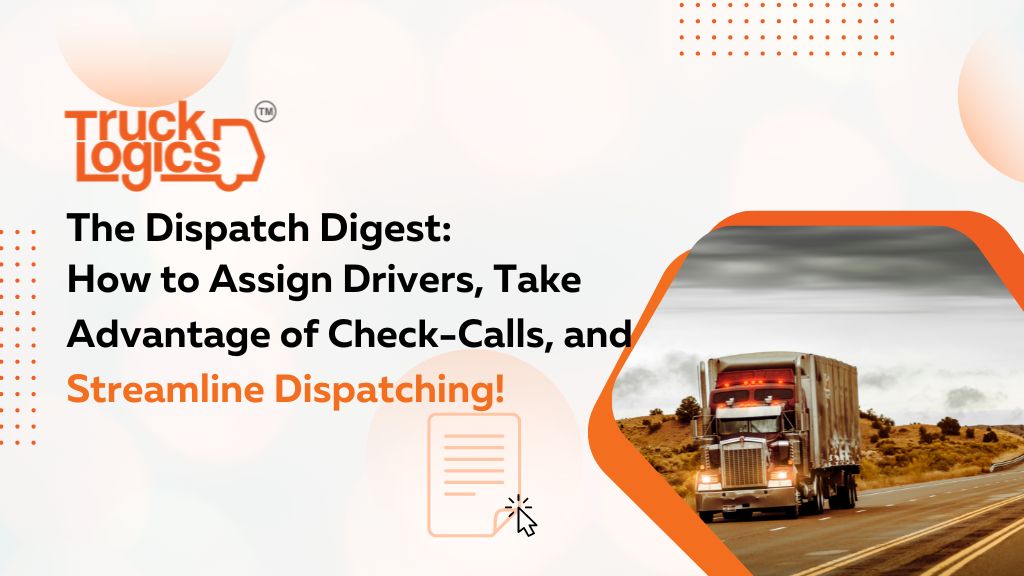 June is all about Load Management Mastery here at TruckLogics! To keep things going, we're focusing on streamlining the dispatch process–and that starts with assigning drivers and receiving valuable updates through the use of check-calls! Read more to take the next step towards load management and dispatch mastery!

Creating a Dispatch and Assigning a Driver: A Quick Guide

1.From the dashboard, click the "Loads" tab.
2. Find the load you need and click the load number.
3.Click the "Create New Dispatch" Button.
4. Inside the Driver and Equipment box, click the "Assign" button.
5. Select the desired driver from the drop-down list, or add a new one. From here, you can assign them or wait for their availability. You also have the option to send notifications to them via email or text message.
6. Add the truck and trailer details, then click "Assign Driver and Equipment."
And voila! You've successfully created a dispatch and assigned a driver to your load. Now, keep reading for information on how to stay up-to-date and on top of your dispatches through check calls!

Check Calls: What They Are, How They Help, and How To Add Them to Your Dispatch

When a dispatch is assigned to a driver, a notification is sent through email (and/or text) that lets the driver check the dispatch in the Driver App. Through here, both you and the driver can add various check calls along the route–such as pickup and delivery locations. With the freedom and flexibility to add auto and manual check-calls, you can stay up-to-date with every aspect of your loads–no matter where they are. Read below for more information on setting up automatic check calls on your mobile device, so you can fully streamline your dispatch process.
Adding Automatic Check Calls on Your Mobile Device

1.From the dashboard on your mobile app, tap on the settings menu (in the top corner).
2. Tap on the Settings icon (Cog wheel)
3. Tap on Your Account
4. Tab to Enable Auto Check Calls
5. To trigger automatic check calls for At Shipper, Pick Up Complete, At Consignee and Drop Off Complete–make sure the Starting Trip check call is added first.
Don't Wait–Take the Next Step Towards Load Management Mastery!
Now that you know the basics, keep the knowledge flowing and click here to watch our most recent webinar, all about efficient strategies for load creation and dispatch! And if you're ready for even more on check calls, join us on June 22nd, 2023 at 4 PM for our upcoming webinar, "Streamlining Dispatch Operations: Maximizing Efficiency Through Check Calls!"