The August 31st, 2022 Form 2290 Deadline is Today! File With ExpressTruckTax Now!
File your Form 2290 today August 31st to avoid penalties from the IRS!

|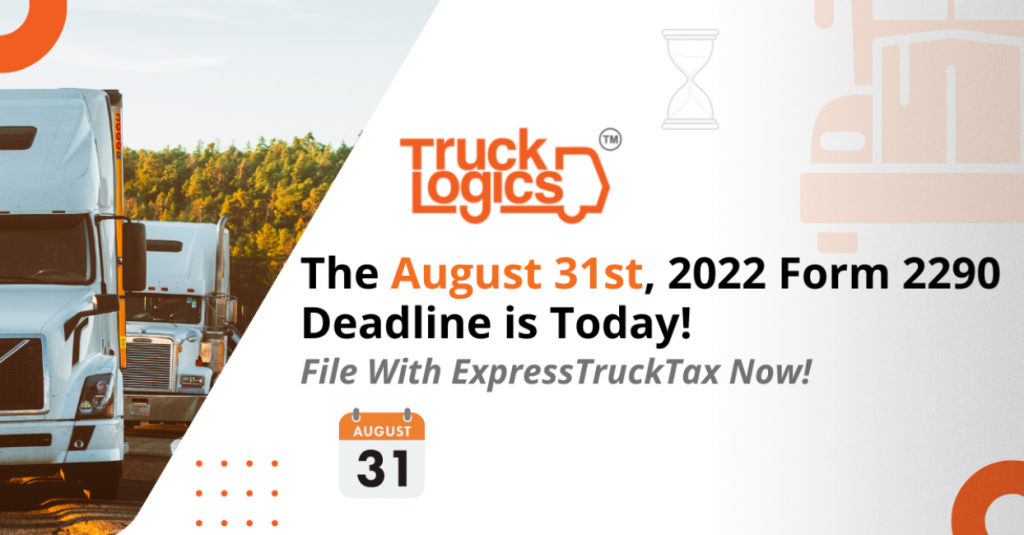 Today is August 31st, 2022, the last day to File Form 2290 and pay the Heavy Vehicle Use Tax to the IRS. Does your company have drivers that operate vehicles weighing 55,000 pounds or more? Then they need to be aware of this important deadline! 
Form 2290 is an IRS tax form that must be filed annually for the upcoming tax year. By filing now drivers are paying their tax in advance and do not have to worry about paying it again until next year. The Form 2290 tax year goes from July 1st to June 30th of the following year. This is important to know because a vehicle's Stamped Schedule 1 expires on June 30th. 
A Stamped Schedule 1 is important because it is used to get a vehicle's tags and registration and can only be obtained by filing Form 2290. If a vehicle is found without a current Stamp Schedule 1, this can lead to being pulled over and penalized. If a driver does not pay the tax or file Form 2290 at all before August 31st, fines will occur. 
If Form 2290 is filed late or the tax is not paid, you will be charged late fines, and the fine for not filing Form 2290 is actually greater than the fine for not paying the tax. 
For every month the deadline is missed there will be a fine of 4.5% of the total tax due for up to five months. If there is underpayment for the Heavy Vehicle Use Tax, there will be a penalty of 0.5% of the tax due. Additional interest charges of 0.54% accrue each month that Form 2290 is not filed. This is why it is important to not only file Form 2290 but pay the Heavy Vehicle Use Tax as well. 
This is why it is important for drivers not to miss this deadline. Lucky for your drivers TruckLogics' sister product, ExpressTruckTax has their back. ExpressTruckTax is the market-leading Form 2290, e-file provider that provides simple Form 2290 filing that can be completed in minutes! Drivers simply enter their business information including their Employer Identification Number (EIN), vehicle information including the Vehicle Identification Number (VIN), and their payment information.
ExpressTruckTax now offers drivers the option to pay their Heavy Vehicle Use Tax alongside their filing fee directly through ExpressTruckTax using a credit or debit card. Now drivers don't have to worry about going to an external site to pay their HVUT. You also no longer have to worry about your drivers being late with their taxes. What are you waiting for? Drivers file Form 2290 with ExpressTruckTax so that you don't miss today's big deadline!