3 Ways Trucklogics Simplifies Dispatching For You
Take the stress of out of your trucking dispatching process

|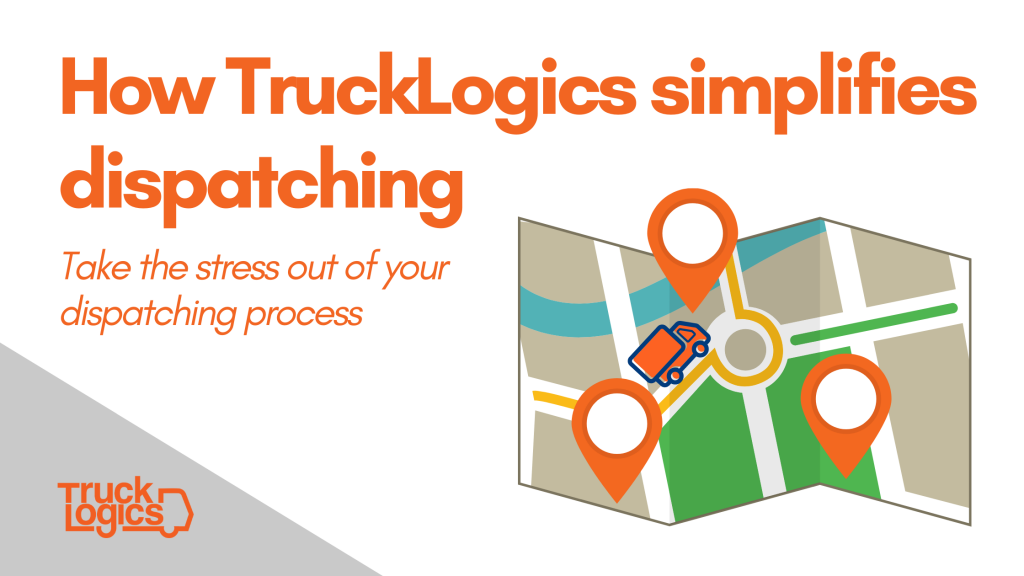 Dispatchers make it all happen. They make sure drivers pick up their cargo on time, stick to their routes, and make their deliveries on time.
That's why TruckLogics, the market-leading trucking dispatch software, is here to make truck dispatching easier for both dispatchers and drivers. Check out how our innovative features simplify dispatching.
How TruckLogics Simplifies Truck Dispatching
You can instantly create a truck dispatch with TruckLogics that contains all the details you need for your records and everything your drivers need. For example, you can include the shipper and consignee details.
Plus, you can include custom pick-up and drop off locations, as well as any special instructions for the driver. Contact information for the pickup and drop-off locations can also be added in case your driver needs to contact your clients.
You can also assign drivers and equipment to your dispatches online. This way you will be able to make sure the right truck will be used for the right load. Keeping up with the maintenance schedule will be a breeze. TruckLogics dispatching also gives you the ability to assign up to two drivers per dispatch for team driving.
Routing
While creating your trucking dispatches, you can also find accurate address-to-address routes for trucks utilizing ProMiles or Google Maps. You will be able to accurately estimate how long the trip will take based on the route.
ProMiles can be used to get major savings on fuel by showing you the cheapest fuel prices along your trip. The information from ProMiles will also automatically update your trip sheets and will be saved for your quarterly IFTA report.
Check Calls
Another way TruckLogics makes dispatching simple is by making check calls easy! Forget about receiving a million phone calls a day, because the TruckLogics app can automatically send updates to your clients! When your drivers are using the mobile app, their location can be used to send updates at the start of the trip, at the pick-up location, and arriving at drop-off!
If that's not for you, notifying clients of progress and location is as easy as sending a text, so drivers can make their update and get on the road. Also, with the TruckLogics app, your drivers can quickly capture and e-sign BOLs and proofs of delivery!
Invoicing and records
Also, with TruckLogics you don't have to worry about calculating any load charges or fees yourself because everything is calculated in your dispatch for you. Hauling fees, fuel surcharges, accessorial fees, and more will all be automatically factored in. You can also send professional invoices to your clients in just a few clicks.
You can access and edit your dispatches online at any time. Simply log in to your account and click the dispatch tab to see your unassigned dispatches, assigned dispatches, active dispatches, delivered dispatches, and canceled dispatches. This way you will always be on top of your records.
Try TruckLogics Now
Why wait? Instantly see how TruckLogics can simplify dispatching and more by signing up for your free 15-day TruckLogics trial! You will be able to instantly create dispatches, send invoices, make driver settlements, and more. You may even wonder how you ever managed your trucking business without it.