The IRS Is Now Accepting The Form 2290 For 2020-2021
Use our mobile app to file your Form 2290!

|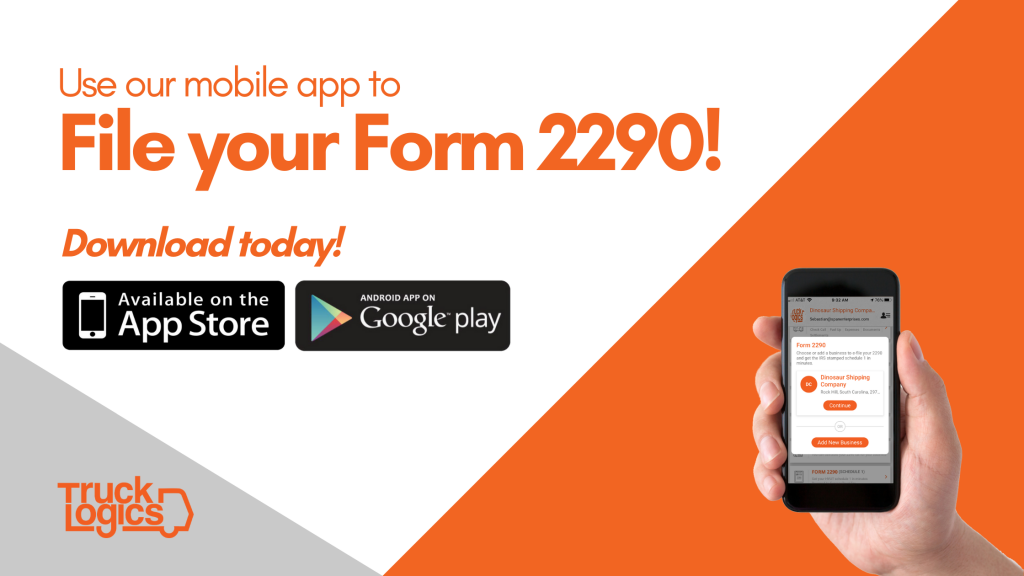 Attention all truckers: The 2020 IRS Form 2290 filing season is officially here!
And to make life a little easier for you, the TruckLogics mobile app now allows you to file your Form 2290 with an e-filing feature powered by ExpressTruckTax!
ExpressTruckTax is the market-leading Form 2290 e-filing solution and now we are proud to offer their simple e-filing process inside our mobile app!
Since all your business and truck information has already been entered into TruckLogics, filing your Form 2290 is now easier than ever!
How Do I File Form 2290 with the TruckLogics mobile app?
→ Open the new Form 2290 tab in the mobile app
→ Confirm your business details or add a new business
→ Select the 2020-21 tax year & add truck information
→ Select your preferred IRS payment method & transmit your return
→ Receive your stamped Schedule 1 in minutes
Form 2290 Filing Made Easy
TruckLogics and ExpressTruckTax provide you with a quick and convenient e-filing process for hassle-free Form 2290 filing.
We offer top-of-the-line, 100% US-based customer service to make your 2290 filing experience as quick and easy as possible.
Trust us, it is in your best interest to file Form 2290 by August 31 deadline. Imagine the hassle of getting pulled over and trying to explain expired tags. If you are placed out of service it will be even harder to make your truck tax payment.
We also provide IRS notifications, an instant error check, free VIN corrections, and support by phone, chat, or email.
Is There a Fine for Filing Form 2290 late?
The penalty for failing to file your Heavy Use Tax IRS Form 2290 is 4.5% of the total tax amount due. This penalty will increase on a monthly basis for up to five months.
The penalty for failing to pay your Heavy Highway Use Tax payment is .5% of your total tax amount. You will also face an additional interest charge of .54% per month.
This penalty can make the amount you owe increase pretty quickly.
Other Ways to File Your Form 2290 for 2020!
If you are new to 2290 filing, or just simply don't have the time, check out the full-service 2290 filing option available from Truck Services of North America.
Simply provide your information over the phone (803.386.0320), and they will file your IRS Form 2290 on your behalf. The process is straightforward and will take less than 5 minutes.
Once they have submitted your information to the IRS, you will receive a copy of your stamped Schedule 1 via email. Their outstanding bilingual team supports filing in both English and Spanish.
Download the TruckLogics Mobile App