How-To Tuesday: Using the Search Feature in TruckLogics
Learn how to use the search feature in TruckLogics.

|
TruckLogics offers plenty of helpful features to help make the operations of any trucking business run smoothly. One of these great features is the ability to search for what you need. This is achieved by using specific abbreviations in some cases, to find what you are looking for whether it is a Load, Dispatch, Invoice, Contact, or Truck. This search feature is very useful when you know what you are searching for but are unsure of where to find it.

From anywhere in TruckLogics, you will find a search bar at the top. Click on it and it will show you a drop-down that shows examples of how to search for something specific. Search for loads, dispatches, and invoices with ease by just looking them up by their number. In order to search for a contact, simply type in their name. To locate a specific truck type in the numbers and letters that are associated with that truck.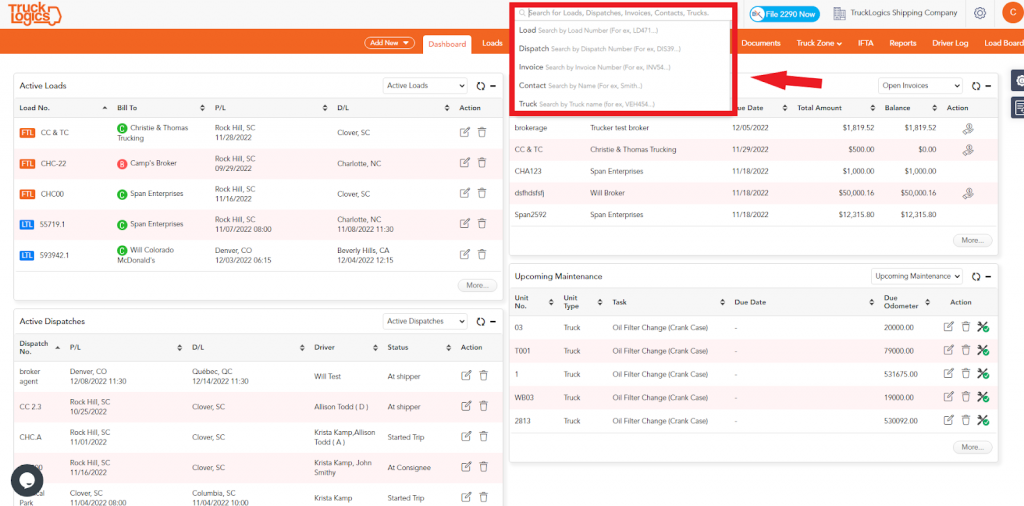 By following this in TruckLogics you are able to search for specific loads, dispatches, invoices, contacts, and trucks. If you need to find something specific in TruckLogics and are unsure where to find it, as long as you have the details this search feature will help you tremendously. What are you waiting for? Find what you are looking for with ease and sign up for a 15-day free trial with TruckLogics today!