How-To Tuesday: Setting up Recurring Deductions for Driver Settlements
Learn how to simplify recurring deductions on driver settlements with TruckLogics

|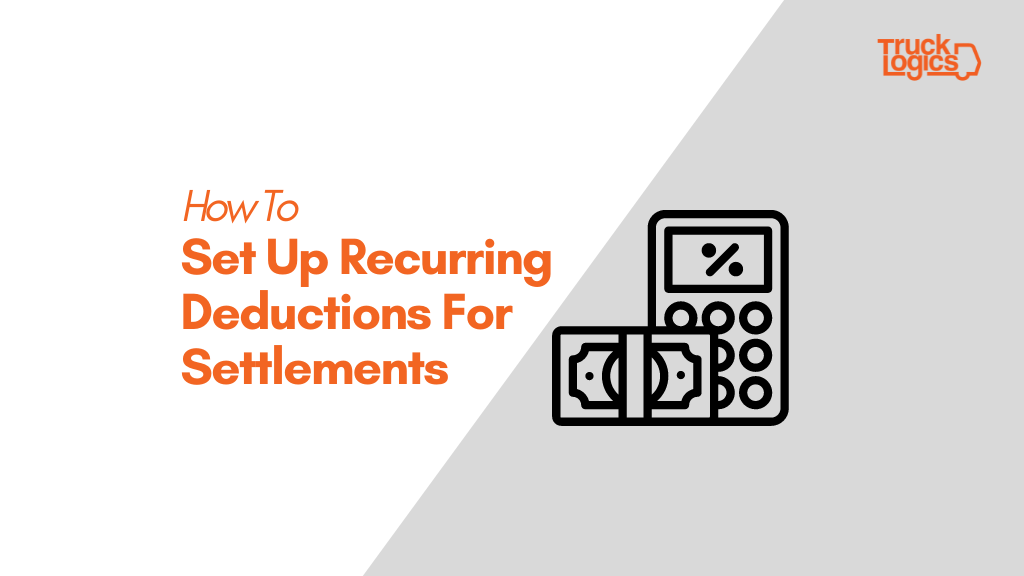 How are you handling your driver's recurring deductions? When you generate driver settlements, are you typing them in one by one?
With the TruckLogics system for Recurring Deductions, you don't have to type these in for each weekly settlement! 
Set up all your drivers' standard deductions and TruckLogics will handle the heavy lifting by automatically adding them to the driver settlements at whatever frequency you need. Put yourself at ease knowing that you can automatically stop each one at a set date or after a set number of occurrences.
Let TruckLogics take some of the load off your driver settlements process in this week's How-To Tuesday!
Adding Recurring Deductions
To get started, from anywhere in TruckLogics, hover your mouse over Accounts, then click Driver Settlements from the drop down menu.
2. On the Pending Settlements page, click Recurring Deductions on the left side of your screen.
3. Click the +Add Recurring Deduction button in the top right corner of the Recurring Deductions Page. Alternatively, you can use the icons in the action column to edit, delete or halt the cycle for any recurring deduction you had added previously.
4. To complete the process, fill in all the required fields. These include a name for the deduction, the occurrence frequency, start date, driver name, and deduction amount. Optionally you can use the end date drop-down to end the recurrence of this deduction after a specific date or after a set number of occurrences. Click Save.
5. After your recurring deduction has been added you will then see them appear on your driver payment report. They will appear with a $ sign icon to the left of the entry to indicate it was added automatically.
Please note that recurring deductions you have set up will not add retroactively to drivers' previous payment reports. You must also allow enough time for each to cycle based on the set frequency for each recurring deduction.
Are you still typing in all your driver's weekly and monthly deductions?
Sign-up for a 15-day free trial! We know that you will love TruckLogics and there is no obligation after your free trial.