Does Your Trucking Business Need to Issue Forms W-2 and 1099-NEC?
Filing requirements if you have employees vs. independent contractors.

|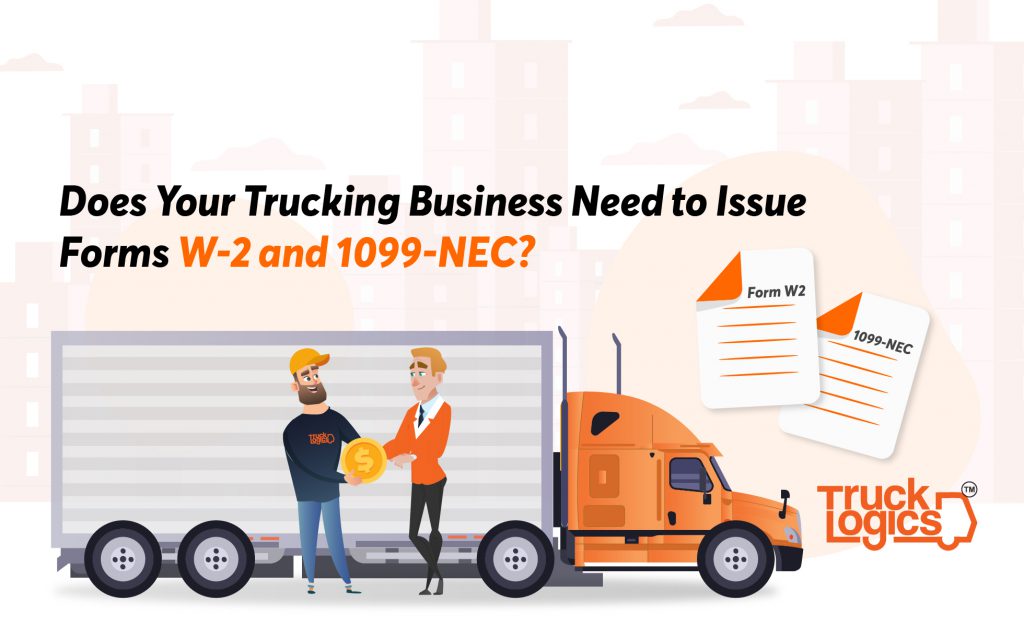 Here at TruckLogics, we understand that running your trucking business is no easy feat, that is why we are dedicated (and sometimes obsessed) with helping you streamline operations.
When it comes to trucking management, we have your back, and when it comes to issuing W-2 and 1099s, our sister company, TaxBandits is here to help you too!
If completing your year-end filing has fallen to the bottom of your "to-do" list and you're running out of time, this article is for you!
This is a rundown of Forms 1099-NEC and Form W2 and how TaxBandits can help you meet your deadline.
What are the W-2 and 1099-NEC Deadlines?
The IRS and Social Security Administration (SSA) requires that employers file Forms 1099-NEC and W-2 and distribute copies to their employees and independent contractors. The deadline to do this is January 31, 2022.
Issue Form W-2 to Employees
The drivers and other workers on your payroll should receive a Form W-2. You will need to file this with the Social Security Administration (SSA) and potentially your state agency. This form is used to report the wages that your employees earth and the taxes that you withhold from them.
Your drivers will need this information when it comes time to report their earnings on their own personal income taxes.
Issue Form 1099-NEC to Independent Contractors
Many drivers in the transportation industry are labeled as 1099 contractors rather than full-time employees. This may be the case for your business as well. 
What it all comes down to is the amount you have paid contractors during the tax year, if you have made payments of $600 or greater, you will need to issue them a Form 1099-NEC.
The deadline to report all non-employee compensation using Form 1099-NEC for the 2021 tax year. The deadline to file and distribute Form 1099-NEC is also January 31, 2022.
Much like the W2 Form, your independent contractors need a copy of this form to help them report their earnings on their personal income tax returns.
E-file and Distribute 1099s and W-2s with TaxBandits!
E-filing and distributing Forms 1099 and W-2 is a breeze with our sister product, TaxBandits, they're the experts!
TaxBandits also helps you fulfill your federal and state e-filing requirements for Forms 1099-NEC, W-2, and many more IRS tax forms, including the rest of the 1099 series, the 94x series, and ACA forms!
TaxBandits has easy options for handling your recipient copies. When you select our postal mailing services, we ensure that all of your forms are printed and mailed to USPS Validated addresses.
If you run into a jam while filing, just call up their excellent customer support team. They will be working all weekend to make sure you have all the help you need. You can expect the same friendly and helpful experience you enjoy from the TruckLogics team!
Ready to handle your filing today? Create your free TaxBandits account now!