File Form 2290 For 2022-23 And Pay Your IRS Tax (HVUT) Directly Through ExpressTruckTax
|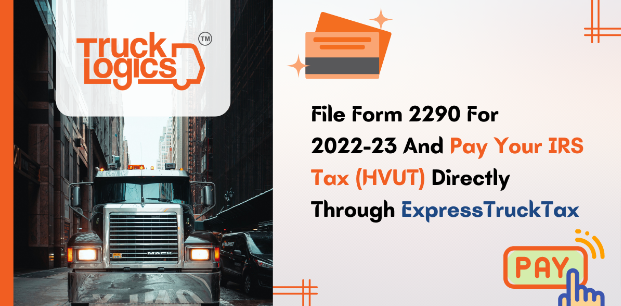 TruckLogics' sister company, ExpressTruckTax is excited to announce a new payment feature that is now available. This feature makes it more convenient for filers to pay their Heavy Vehicle Use Tax (HVUT). Filers can now pay their HVUT alongside filing their Form 2290, which is due August 31st, 2022, through ExpressTruckTax.
ExpressTruckTax is a market-leading Form 2290 e-filer that offers a user-friendly solution to help file Form 2290 for the Heavy Vehicle Use Tax. Form 2290 is filed to the IRS for a vehicle when the vehicle weighs 55,000 pounds or more. Users are able to file their Form 2290 through ExpressTruckTax in only a few simple steps. 
ExpressTruckTax not only makes filing Form 2290 easy but also offers filers convenient ways to pay their taxes for the HVUT to the IRS. In addition to the already established convenient payment methods including Electronic Funds Withdrawal (EFW), EFTPS, check or money order, and credit or debit card, ExpressTruckTax is excited to announce a new tax payment option that is now offered. Previously if filers wanted to pay via credit or debit card they would have to go to the IRS website and pay through an IRS-approved payment processor. Doing this would require the filer to complete extra steps on a different website to actually pay the tax. Filers would need to enter in all of their information a second time which involves extra time and steps. Some filers would say they would pay later and ended up forgetting to pay at all because this was an extra step that needed to be completed on an external site. This would cause drivers to be fined for being late with their tax payments. The IRS payment processors charge additional fees for using this service. 
To ensure that drivers pay their tax on time, and not get fined, ExpressTruckTax now offers the option for drivers to pay their HVUT directly from ExpressTruckTax. Instead of having to complete the extra steps involved with paying through an IRS payment processor, filers can pay for the Form 2290 filing fee and their HVUT taxes all at the same time. When utilizing this option, there is a bank processing fee that is applied and calculated before payment. Once the driver pays through ExpressTruckTax, the tax form and payment are submitted at the same time and filers will no longer have to worry about going to an external site and entering all of their information again or forgetting to pay altogether. 
Paying through ExpressTruckTax saves drivers time and money. This new payment method offers a one-stop solution so that the filing and the payment are submitted at the same time and drivers can get back on the road without stressing over being late with their filing or tax payment. Not only that but you can access filing through ExpressTruckTax directly from your TruckLogics account. Just look for the blue button below in your account to start filing Form 2290 and pay your tax all in one place today!