Everything You Need to Know about User Roles in TruckLogics
Learn all about user roles in TruckLogics.

|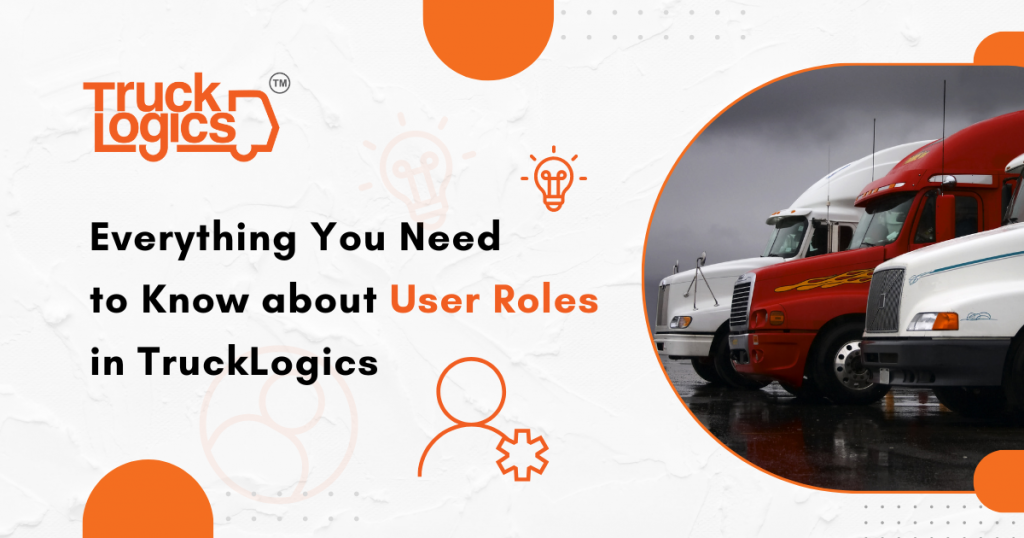 TruckLogics is an all-in-one Trucking Management Software that allows you to manage every aspect of your trucking business in one place. From dispatching to creating loads, assigning drivers to loads, paying drivers, scheduling truck maintenance, and much more, TruckLogics does it all. You can even add multiple users within one TruckLogics account and assign them different roles.
Each user can do different things within the account depending on their role. The different roles you can assign users include Driver, Dispatcher, and Office Manager. Below you will find a more detailed explanation of each role. Please note that you cannot change someone's role. Instead, you will have to delete the user and then re-add them with the desired user role.
Driver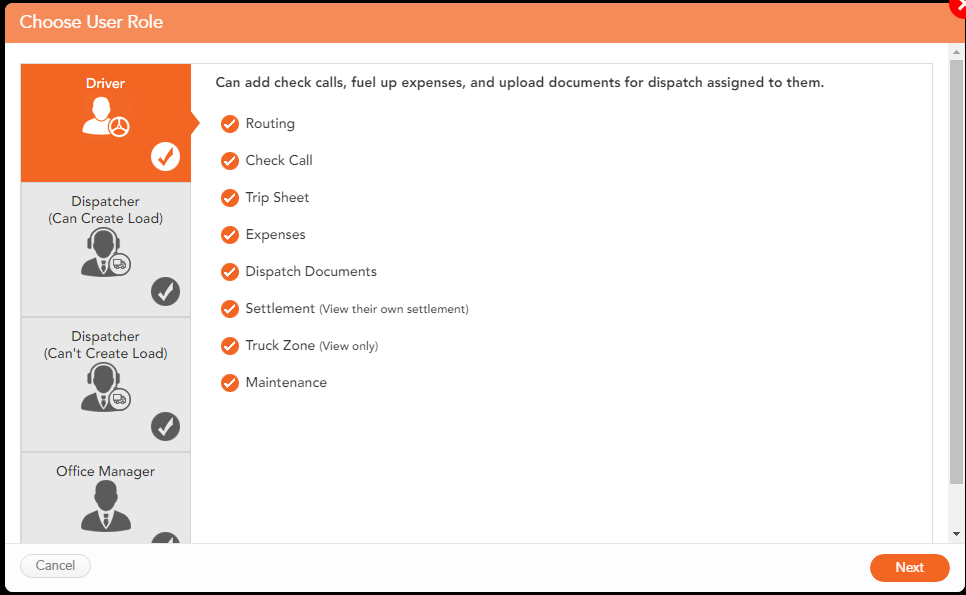 In TruckLogics, users assigned the role of Driver can add check calls, fuel up expenses, and upload documents for dispatches assigned to them. Drivers can be assigned dispatches based on their availability, with either FTL or LTL loads. Drivers can also view their trip sheets, upload expenses, view their own driver settlements, and record maintenance for their truck(s). Drivers can also access the app from a mobile device and see dispatch assignments there. They can also upload documents using the app. Drivers can also sign BOLs.
Dispatcher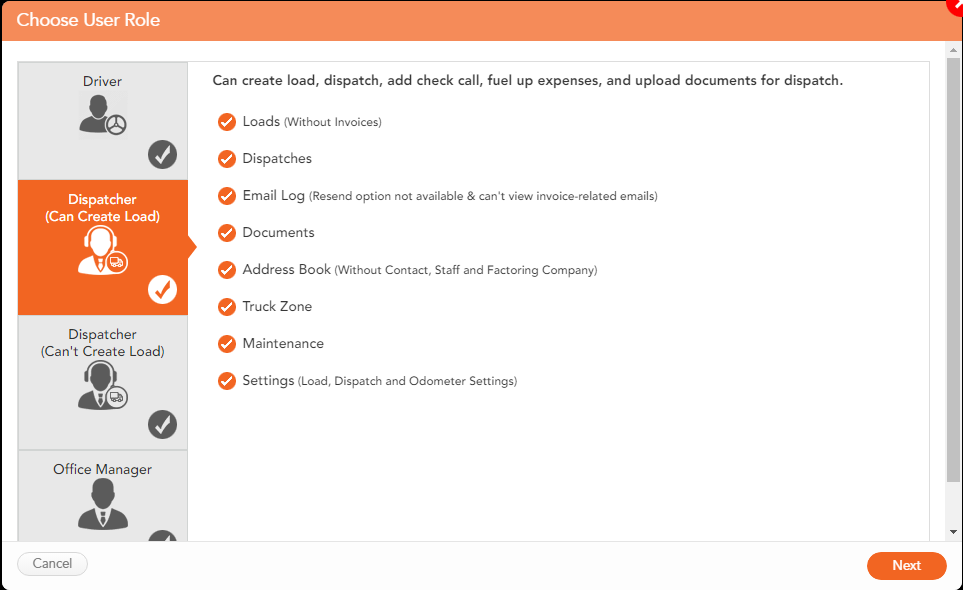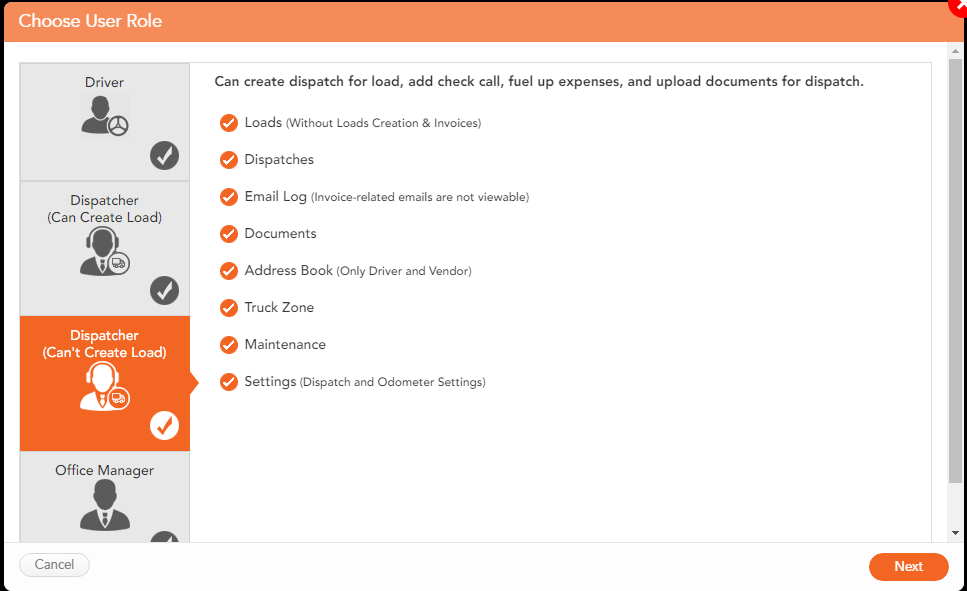 Dispatchers are able to create dispatches and assign them to drivers. They are also able to add check calls, fuel up expenses, and upload documents for dispatches. There are two types of Dispatcher user roles that can be assigned, one that can create loads and one that can't create loads. They both are able to view loads, view and create dispatches, access the email log (not including invoice-related emails), documents, drivers and vendors in the address book, the Truck Zone, maintenance, and settings including dispatch and odometer settings.
Office Manager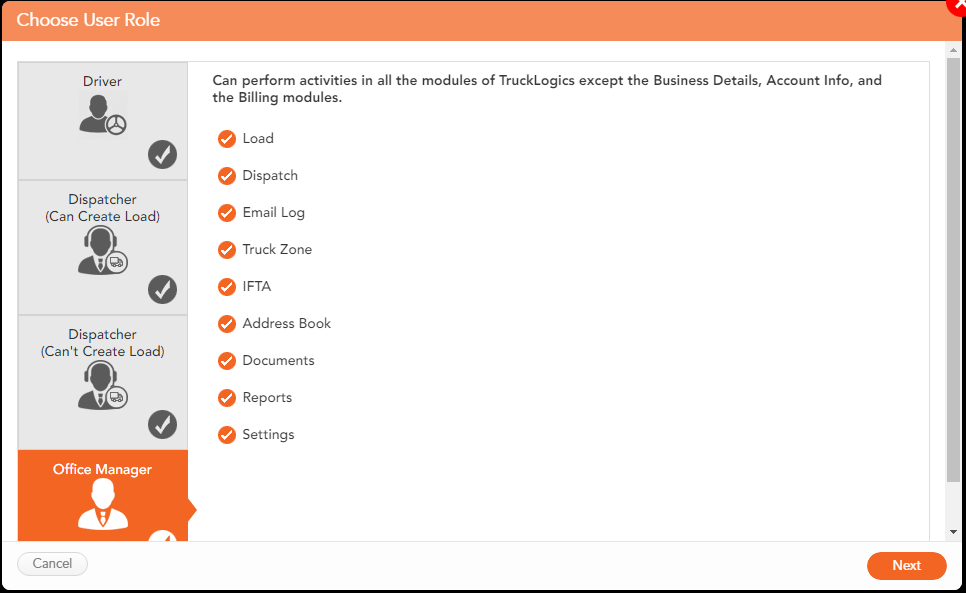 Office Managers perform activities in all the modules of TruckLogics except business details, account info, and billing modules. They have access to loads, dispatches, the email log, Truck Zone, IFTA, the address book, documents, reports, and settings.
Why choose TruckLogics?
All of these roles are important and play a big part in any trucking business. When adding users to your account, you can assign them to any one of these important roles to better simplify the operations of your trucking business.
Assigning user roles and having different people access a single account is one of the many great things about TruckLogics. You can have multiple users on one account which makes dispatching and business management easier. You can even decide what permissions each user gets and what they can and cannot see or do within the account. What are you waiting for? Sign up for a 15-day free trial with TruckLogics and start simplifying your trucking business today.