Understanding Your IFTA Options: No Operation, Amendments, and Final Reports
|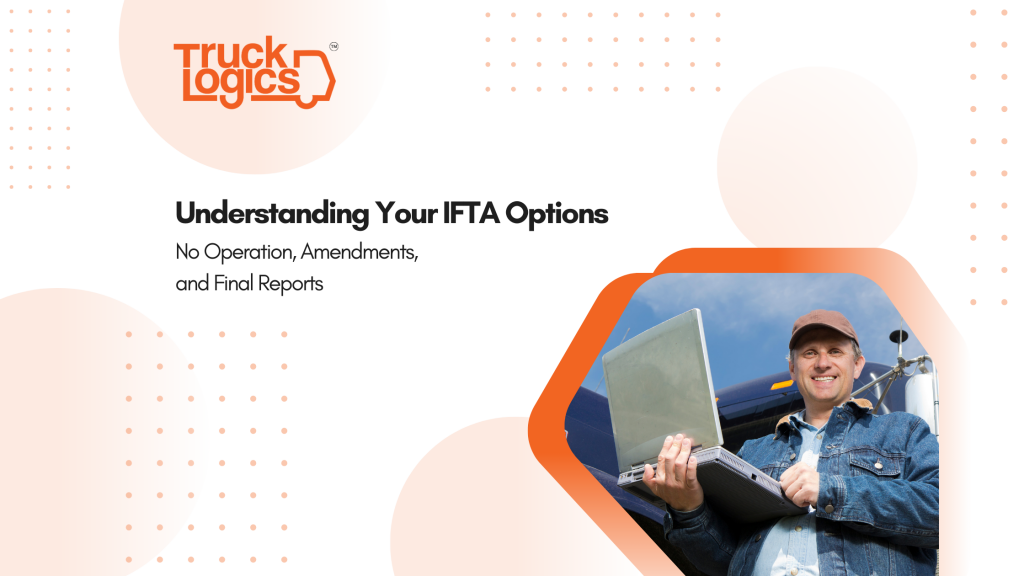 As you generate your quarterly IFTA report in TruckLogics, you are presented with a few different options towards the end of the process. Each option means something specific for your report, and it's important to know when and why you would want to select each of these options in order to ensure that your reports are accurate and keep you in compliance with IFTA regulations.
No Operation
The "No Operation" option for your IFTA report should only be selected in the event that you have no miles to report for the quarter. IFTA regulations require the submission of a quarterly report in order for your IFTA license to remain valid, but if you took a break for a quarter or were otherwise not operational, designating your IFTA report as "No Operation" is all you need to do to ensure that you still have something to report and be in compliance with IFTA regulations.
For more information on the specifics of generating a "No Operation" IFTA report, follow the steps outlined here.
Amendment
The "Amendment" option is used to update, correct, or otherwise edit an IFTA report that has already been filed. This allows you to fix information that may have been entered incorrectly, add new information, and ensure general compliance with IFTA regulations.
For a step-by-step guide to amending an IFTA report, click here.
Final Report
The "Final Report" option should only be used in the event that you wish to cancel your IFTA license. By selecting this option, you are indicating that you would like your base jurisdiction to close your IFTA account and that this will be your last filing.
To learn more about how to file a Final Report IFTA, follow the steps here.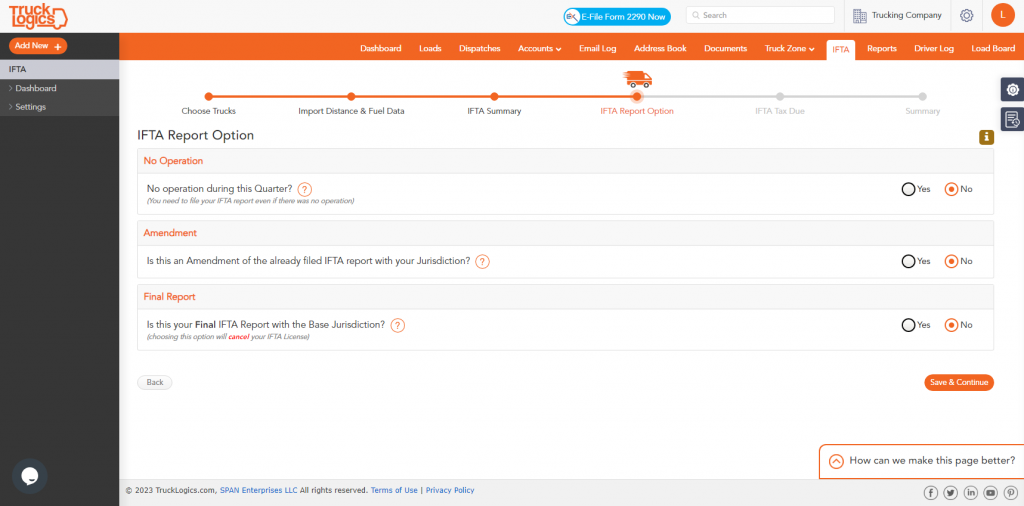 Each of these options can save you time and frustration when it comes to your IFTA generation. To discover how TruckLogics can simplify and optimize all other aspects of your trucking business, check us out here!