TruckLogics Also Caters to Canadian IFTA Clients
TruckLogics IFTA also caters to Canadian IFTA clients.

|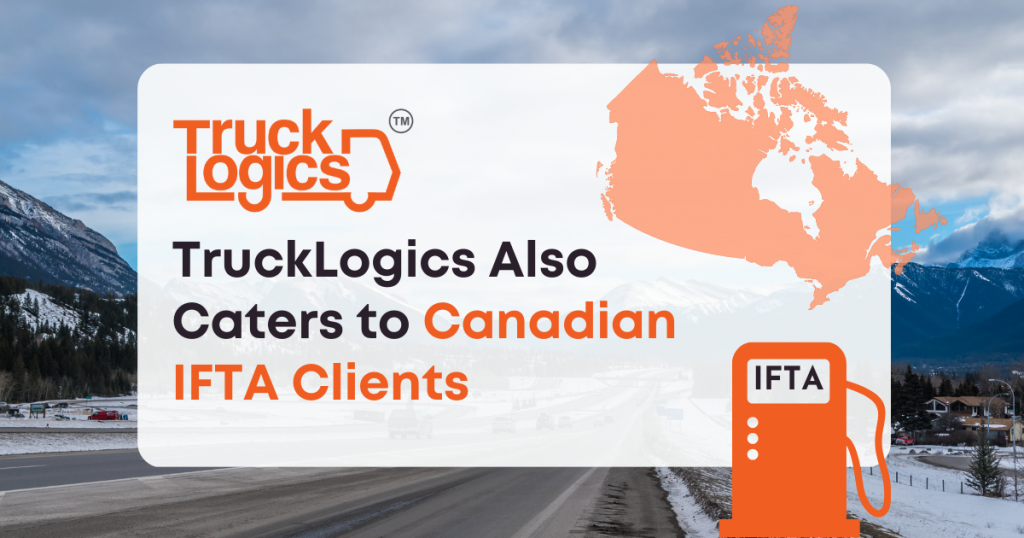 What is IFTA?
IFTA stands for the International Fuel Tax Agreement. This agreement was created by the 48 contiguous United States and ten Canadian provinces. The purpose of this agreement is so that truck drivers report fuel purchased and distance traveled in each state to their base jurisdiction quarterly. That jurisdiction is then responsible for distributing the taxes to each jurisdiction fuel was purchased to help with roads in each jurisdiction.
Who has to report IFTA?
A driver must report IFTA if their vehicle(s) meets the following requirements:
weighs 26,000 pounds or more
has three or more axles
travels through two or more jurisdictions
IFTA Quarters
IFTA is a tax that is reported quarterly and the time frame of each quarter is as follows:
Quarter 1: January 1 – March 31
Quarter 2: April 1 – June 30
Quarter 3: July 1 – September 30
Quarter 4: October 1 – December 31
IFTA Deadlines
The deadline to file IFTA for each quarter is as follows (If the deadline falls on a weekend or holiday, the deadline will be moved to the next business day):
Quarter 1: April 30 (May 1st, 2023)
Quarter 2: July 31, 2023
Quarter 3: October 31, 2023
Quarter 4: January 31, 2023
How TruckLogics caters to Canadian IFTA clients
Just like drivers in the United States, drivers from any of the ten Canadian provinces that participate in IFTA are able to generate their IFTA reports with TruckLogics. TruckLogics offers the option to change your units from gallons and miles to liters and kilometers which is helpful when submitting IFTA reports to Canadian jurisdictions. Simply enter all of your fuel and distance data and TruckLogics will handle the calculations for you. Once you have all of this entered you will be able to generate your report and file it with your base jurisdiction. IFTA is available with the subscription of a preferred or premium TruckLogics account or an IFTA Only account. IFTA reporting is only one of the amazing features TruckLogics offers.
TruckLogics is also a full Trucking Management Software that caters to trucking businesses in the United States, Canada, and Mexico and helps with dispatching, keeping track of trucks and maintenance, paying drivers, and much more. What are you waiting for? Take advantage of all of these features within your existing TruckLogics account or make sure to generate your IFTA report with TruckLogics in time for the fourth quarter IFTA deadline!