The 2nd Quarter IFTA Deadline is Next Week! Generate Your Report Today
|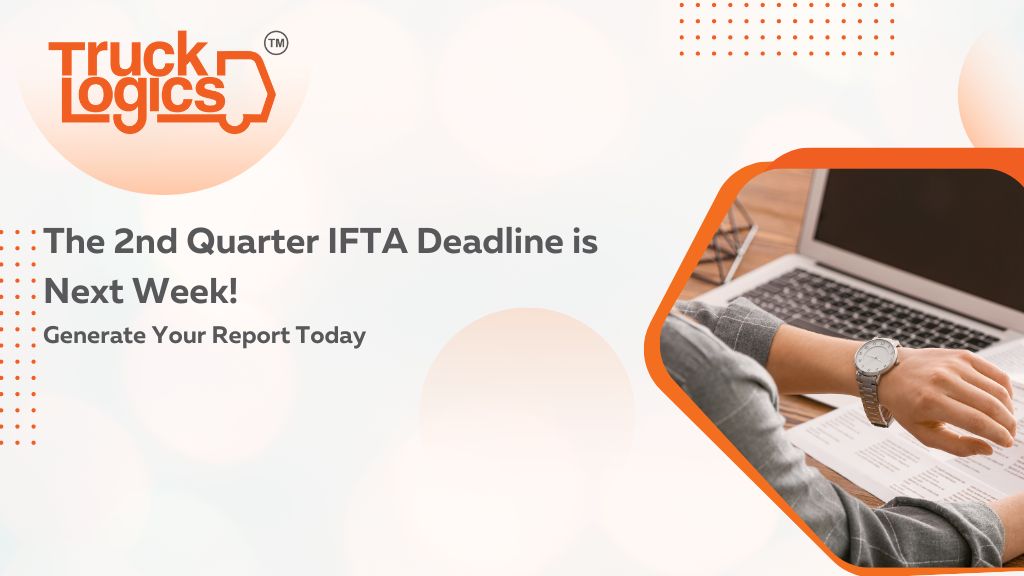 It's that time of year again! The 2nd Quarter IFTA reports are due by July 31st–less than a week away! If the upcoming deadline has you stressed, fear not! TruckLogics is here to help with a number of features that make generating your 2nd Quarter IFTA report a breeze. Read on for a breakdown of all the features TruckLogics has to offer and how they can help you!
Time-Saving Features Make IFTA Generation Easier Than Ever
Bulk Upload Via Excel Template
If you have all of your IFTA fuel and mileage data already entered into an excel doc, then good news–you don't have to worry about entering it all over again! Simply copy the IFTA data and paste it into TruckLogics' easy-to-use IFTA excel template.
Once you've verified all the information, simply upload the excel template containing your data into TruckLogics–and you're done.
Importing IFTA Data Using Motive
Are you a Motive ELD user? If so, you can connect your Motive account to TruckLogics to easily import the miles traveled and fuel purchased in each jurisdiction! Avoid wasted time manually entering information already good to go and generate your report quickly.
Manual Entry
Prefer the old-fashioned way of doing things? No problem! If you prefer to enter all your data manually, you'll have the option to do so. Simply enter each of your vehicle and their fuel/mileage information. And don't worry–just because you're entering the data manually doesn't mean you don't still benefit from TruckLogics' time-saving features! As you'll see below, TruckLogics features a number of automatic calculations for your convenience.
Automatic Calculations Mean Less Time Spent on Paperwork and More Time Spent on Business
Updated IFTA Rates
TruckLogics ensures that your IFTA report is accurate by keeping track of IFTA tax rates in all participating jurisdictions (including split rates). You'll never have to worry about your calculations having the correct tax rates/amounts!
IFTA Calculation
In addition to keeping track of IFTA tax rates, TruckLogics also does those pesky calculations that take up so much time. TruckLogics automatically calculates any applicable late fees and offers data conversion options for metric units, as well!
Accurate, Every Time
Adjacency Check
While you enter your IFTA data, TruckLogics is automatically conducting adjacency checks to make sure the states you report are indeed adjacent to each other–meaning you can count on accurate calculations, every time.
Audit Check
The audit check conveniently flags any fields that have no information (or values of zero), making sure you don't forget to fill out any parts of the IFTA report. And for non-operational vehicles (or those that have zero mileage for any other reason), you can still report no mileage without getting flagged!
Use TruckLogics to Generate Your 2nd Quarter IFTA Report by the July 31st Deadline!
TruckLogics is the solution for all your IFTA needs–and if you're curious for more information on how exactly to generate your 2nd Quarter IFTA report (whether you already subscribe/utilize all our features or you're simply looking for our IFTA-only option), please check out our recent step-by-step guide on doing just that.
Remember, the deadline is less than a week away! Generate your IFTA report today and get a head start!