Celebrate Women's History Month with TruckLogics
Celebrate Women's History Month at TruckLogics.

|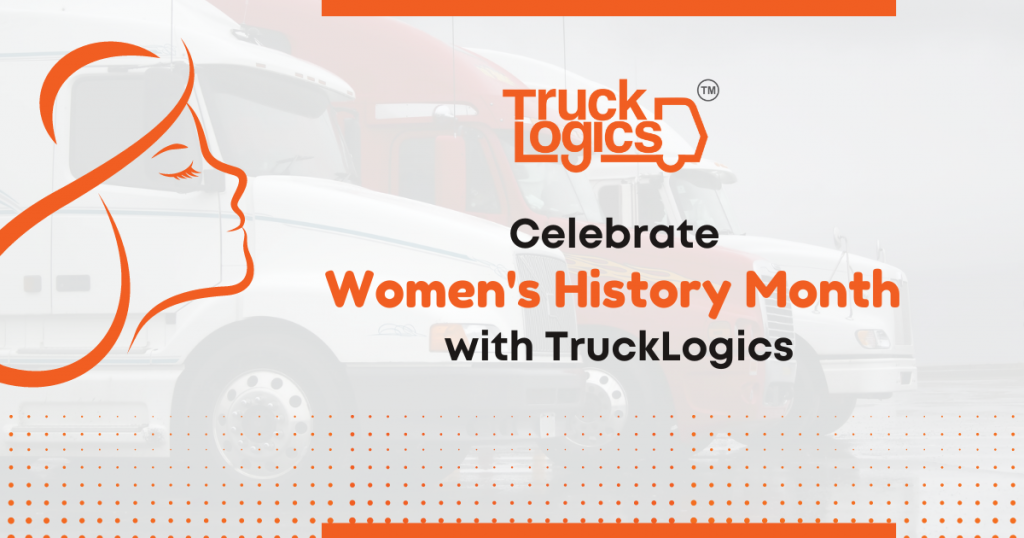 TruckLogics strives to bring trucking businesses the features they need to manage all day-to-day aspects of their business operations. We wouldn't be where we are today without our amazing clients. Here at TruckLogics, we value our clients and this Women's History Month is no different. With Women's History Month being here, we would like to take time to honor and celebrate the amazing women in the trucking industry whether they are drivers, business owners, dispatchers, office managers, and more.
Women make up around 7% of drivers in the transportation industry. While that does not seem like a lot, the number of women in the industry has been increasing in recent years. Around 23% of people that work in trucking management identify as women and this number has been growing steadily as well. The increase of women in this industry has paved the way for the emergence of more and more women-owned trucking companies.
Throughout history, women have accomplished many amazing feats and have played major roles in the transportation industry. One such woman is Lillie McGee Drennan who purchased a truck with her husband and together opened Drennan Truck Line in 1928. They hauled oilfield equipment, soft drinks, explosives, and other general freight throughout the state of Texas. She got her commercial driver's license despite being hearing impaired and became the first licensed woman truck driver in Texas. Upon getting divorced, she became the sole owner of her trucking business and operated it for 24 years. This made her the first woman to own her own trucking business. Her story ended up inspiring a number of women to open their own trucking companies or become drivers.
Even though most people working in the trucking industry identify as male, women play a major role in the industry's growth with a growing number of major trucking companies being women-owned. Here at TruckLogics, a leading Trucking Management Software, we value and celebrate our clients who are women who utilize TruckLogics either for their daily business operations or for IFTA reporting. We are always striving to improve your user experience from dispatching, invoicing, reporting IFTA, and much more. We also want to take the time to highlight some of our amazing women clientele and business owners who manage their business operations or report IFTA with us. We want to hear about your TruckLogics experience!
If you would like your business to be featured, or want to shout out to a women-owned trucking business your love, reach out to [email protected].
We will feature these businesses through a Facebook post upon approval.