You Can Still File Your Form 2290 with the TruckLogics Mobile App
File your Form 2290 with the TruckLogics mobile app today!

|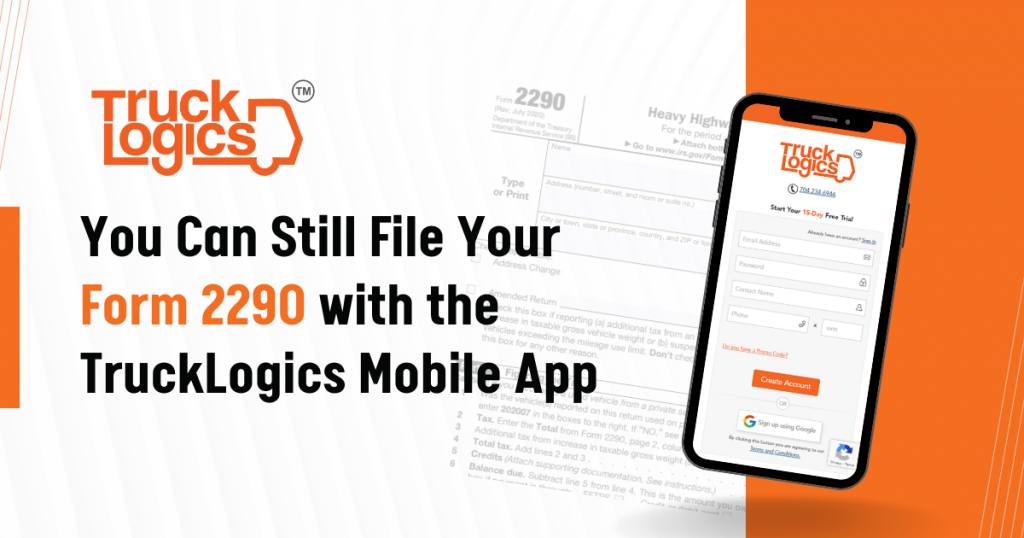 The Form 2290 deadline has officially passed for vehicles weighing 55,000 pounds or more that have been on the road for over a year or have a First Used Month (FUM) of July. A vehicle's First Used Month refers to the month it was put on the road for the first time. Even though the deadline has passed, Form 2290 is still able to be filed. If you have purchased a new truck and are planning to put it on the road soon you are also able to file Form 2290 for your truck for the remainder of the current tax year. 
TruckLogics has partnered with its sister product ExpressTruckTax to bring filing Form 2290 directly to the TruckLogics mobile app. You are able to file from the convenience of the mobile app, which will create an ExpressTruckTax account. Once you file you will need to log in to your ExpressTruckTax account at ExpressTruckTax.com to access your Stamped Schedule 1. Filing Form 2290 is important because it is used to get a vehicle's tags and registration and can only be obtained by filing Form 2290. If a vehicle is found without a current Stamp Schedule 1, the vehicle can get pulled over and the driver will be penalized. 
If Form 2290 is filed late or the tax is not paid, you will be charged late fines, and the fine for not filing Form 2290 is actually greater than the fine for not paying the tax. For every month the deadline is missed there will be a fine of 4.5% of the total tax due for up to five months. If there is underpayment for the Heavy Vehicle Use Tax, there will be a penalty of 0.5% of the tax due. Additional interest charges of 0.54% accrue each month that Form 2290 is not filed. This is why it is important to not only file Form 2290 but pay the Heavy Vehicle Use Tax as well.
This is why it is important for drivers to file Form 2290 as soon as possible. ExpressTruckTax is the market-leading Form 2290, e-file provider that provides simple Form 2290 filing that can be completed within minutes in only a few steps! Drivers simply enter their business information including their Employer Identification Number (EIN), vehicle information including the Vehicle Identification Number (VIN), and their payment information.
ExpressTruckTax now offers drivers the option to pay their Heavy Vehicle Use Tax alongside their filing fee directly through ExpressTruckTax using a credit or debit card. Now drivers don't have to worry about going to an external site to pay their HVUT. By encouraging your drivers to use the mobile app to file Form 2290, you no longer have to worry about your drivers being late with their taxes. What are you waiting for? File Form 2290 with ExpressTruckTax directly through the TruckLogics mobile app today!